NHS England has denied it was "leaned on" by government to reduce its request for NHS funding growth.
Former Liberal Democrat minister David Laws claims in a new book, extracts of which appeared in the Mail on Sunday, that NHS England chief executive Simon Stevens was pressured to reduce his demand from £16bn to £8bn.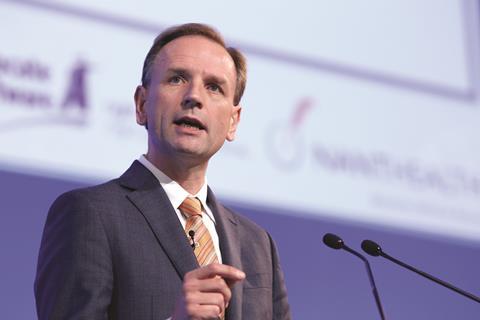 He refers to the request for a real terms increase of at least £8bn in annual funding by 2020-21, which was made by national officials at the publication of the Five Year Forward View, in October 2014, although the document does not include the figure itself.
The government commited to funding an £8bn increase ahead of last year's general election and said the remainder of the £30bn funding gap estimated by NHS England, of £22bn, "can be made up through efficiency and reform".
Mr Laws said: "Stevens' original estimate was that the NHS needed £15-16 billion extra. Number 10's reaction was: 'You've got to be joking.'
"Stevens was told there was no way the [prime minister] and chancellor would sign up to an 'impossible and excessive' commitment this size. He was told, 'Get it down to a more deliverable sum.'
"The Stevens report was changed for cynical political expediency. I am not blaming Stevens: he was put under huge pressure."
Mr Laws repeated the claims on Sunday's Andrew Marr Show.
Responding, an NHS England spokeswoman said: "The [forward view] clearly and independently said that the NHS would need in the range of £8-21bn real terms annual growth by 2020, depending on levels of efficiency, capital investment and transformational funding.
"We stand by this analysis and were not 'leant on'. David Laws was not part of these discussions, and has no first hand knowledge of them.
"Simon Stevens has been more publicly outspoken in arguing the NHS' corner than any previous serving NHS chief executive - including publicly in the run up to the November 2015 spending review - and he will continue to do exactly that.
"The NHS is going hammer and tongs to meet growing demand, offer new treatments, and remove remaining inefficiencies.
"If in the years and decades ahead we want a well functioning NHS, it's obvious and inescapable that the nation will have to use economic growth to fund health care more generously. That's an argument we will forcibly make. However the pace of that funding growth, and how to balance competing demands - including for social care, disability benefits, or schools - are inevitably and rightly judgments for elected governments."
NHS England denies government pressure over £8bn funding call
1

Currently reading

NHS England denies government pressure over £8bn funding call

2