An HSJ investigation has revealed the clearest national picture to date of the primary care trusts being hit hardest by NHS management savings.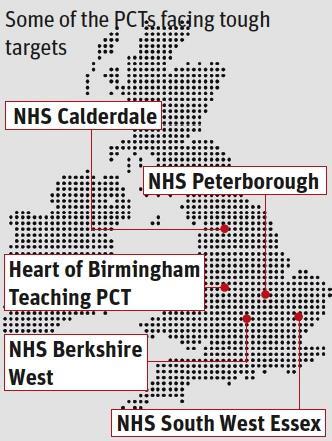 NHS management cuts hotspots revealed
June's revised operating framework limited total management costs to two thirds of 2008-09 levels by 2013-14. It was left to strategic health authorities and the Department of Health to decide how to distribute the savings, most of which must be realised by 2012.
PCTs with provider arms feel they have been disproportionately "hit" because of their extra management functions
HSJ's analysis of 87 PCTs shows the amounts they are expected to cut varies significantly. For example, NHS Somerset has to reduce its 2009-10 costs by 9 per cent by 2013-14, compared with 76 per cent at NHS Peterborough.
Other tough targets include NHS South West Essex's 66 per cent, Heart of Birmingham Teaching PCT's 61 per cent and NHS Coventry's 59 per cent.
Seven of the 10 PCTs with the lowest reductions are in the South West. Due to relatively low management costs, the region's overall savings target is 28 per cent, compared with an average of 46 per cent across all SHAs.
In some regions - such as NHS South East Coast - PCTs are still discussing cost reductions, while others are much further ahead in their plans. For example, NHS Kirklees has already calculated it will need to shed 112 posts to save £3.1m of management costs by 2014.
NHS Calderdale board papers say recent communications with the SHA suggest it has to save 56 per cent over three years but this will be reduced as provider services staff transfer out.
Managers in Partnership chief executive Jon Restell said: "We need a bit of order, quickly. The centre is a bit behind the pace because people are interpreting what they think is going to happen and getting on with redundancies."
He said he hoped the Department of Health's transition board would guide PCTs on how to approach the savings, for example how people should be selected for redundancy.
PCTs with provider arms feel they have been disproportionately "hit" because of their extra management functions, he said.
PCT Network director David Stout said some provider PCTs were "incredibly anxious" of the "double whammy" of savings cuts and the demands of implementing the transforming community services programme.
Mr Stout said pain was also likely to be concentrated in areas with low consultancy spends, those with a complex commissioning infrastructure and where there was low staff turnover and less "natural wastage".
He said PCTs were asking themselves what they must stop doing in order to meet the £20bn productivity savings target while transferring commissioning to GPs and slashing management costs.