Trusts could raise between £2.7bn and £5.7bn through land sales
Hitting upper target requires NHS to take 'far more commercial approach' and gain new skills
Sir Robert calls for more London trusts to follow Moorfields' example
Trusts could generate nearly £6bn from redeveloping and then selling land but they would need to take "a far more commercial approach", according to a major review by the government's estates tsar.
Sir Robert Naylor's NHS property and estates review, published today, also calculated an additional £10bn of capital funding is required to deliver proposals set out in the sustainability and transformation plans and to deal with the service's maintenance backlog.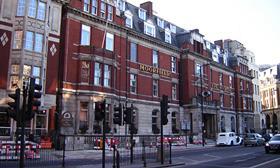 Sir Robert, appointed national adviser on NHS property and estates last year, told HSJ there was £2.7bn of "low hanging fruit". But around £5.7bn could be generated if trusts maximised the value of sites by securing planning permission and developing them before selling.
The review warned however that the NHS's existing estates capacity "will not be sufficient in developing a comprehensive estates strategy". Addressing the system's "lack of strategic estates skills" would be a key priority for the new NHS Property Board the review has also recommended.
The proceeds of land sales could then be re-invested into the NHS to tackle the "backlog maintenance and to develop new models of care closer to home", he said.
Sir Robert pointed to proposals being discussed to redevelop and sell Moorfields Eye Hospital Foundation Trust as an example of a more commercially astute project. "[Getting to the £5.7bn] will involve redeveloping [some] hospitals. Moorfields is a great example. It's a world class hospital but its operating in outdated facilities.
"If they go ahead and develop a new Moorfields hospital…Then they will have a fantastic new facility which they can pay for out of the disposal of the value of the existing site," he said.
There were "probably about four or five" sites in London which could be developed in a similar way to the Moorfields proposal, but "some of them would be quite contentious".
The review team carried out "a more detailed evaluation of opportunities in London" because it represented 57 per cent of the "the total potential financial opportunity". This part of the report is not being published because its contains commercially confidential information, the review said.
However, Sir Robert warned: "[If trusts] are not incentivised to take these difficult decisions then these resources will not be unlocked. Our report recommends new Treasury funding to match sale proceeds as outlined in the 2017 budget statement."

A key recommendation in the review is that ministers should "provide robust assurances to STPs that any sale receipts from locally owned assets will not be recovered centrally provided the disposal is in agreement with STP plans".
It said: "This review calls for additional capital to address backlog maintenance and incentivise providers to dispose of property. This should take the form of a 'two for one' offer in which providers are given additional capital to match their disposal proceeds.
"This offer should be time limited with a fixed funding pot and allocated on a 'first come first served' basis. This will encourage STPs and providers to act quickly to take advantage of this opportunity and discourage them from holding on to land with the hope of taking advantage of this offer later."
The review added a caveat that the allocation of other national capital funding would "need to take account of this offer to ensure that STPs which have lower opportunities for land sales are not disadvantaged".
Naylor review: NHS needs £10bn increase in capital funding
1

2

Currently reading

NHS 'must become more commercial' to raise £6bn from land sales