Analysts predict NHS private patient income will grow more than 5 per cent a year
Care UK estimates cost of treating NHS elective procedures backlog will cost £2bn
Total waiting list could reach 5.5 million by March 2019
NHS work has doubled as proportion of private hospitals' caseload
Income from private patient work carried out by NHS run units will grow by more than 5 per cent in each of the next three calendar years, researchers have predicted.
Analysis from Laing and Buisson, presented at the Private Acute Healthcare Market conference last week, predicted growth in income for NHS trusts from private patients growing by 6 per cent in 2018 and 7 per cent in both 2019 and 2020.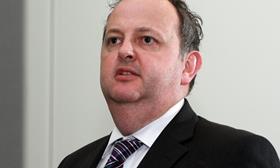 Income from NHS run private patient units is worth approximately £600m a year currently, the research showed.
NHS funded work as a proportion of independent hospitals' income nearly doubled between 2007-08 and 2015-16. The proportion rose from 15.7 per cent to 29.9 per cent, with total annual turnover of £5.2bn in the most recent data.
When London, which has many specialist private and NHS facilities, is excluded, the proportion of NHS funded work delivered by private providers rises to 38 per cent.
Independent providers can carry out NHS funded work if a patient selects their facility under the choose and book GP referral system, if a commissioning body has outsourced procedures or if an NHS provider has put the work out to the private sector.
Independent providers are hoping the lengthening waiting lists for NHS funded treatment will see more of work referred to them and prompt some patients to self-pay.
In slides presented by Care UK managing director Jim Easton, the cost of treating the NHS elective waiting list backlog was predicted to be £2bn.
The company's prediction was the overall waiting list for elective procedures would be just short of 5.5 million by March 2019, up from 3.9 million in the latest data – and higher than at any point since 2007.
One slide said there was "limited capacity in the NHS" to tackle the backlog "even with more money, as whilst they have surgeons, anaesthetists and theatres, acute pressures mean they do not have beds".