Nine trusts begin third phase of pharmaceutical network
Trusts estimate one-off saving of £4.5m by creating central medicines store
Further savings of £13m could be realised over 10 years
Nine acute trusts are collaborating on a pharmaceutical network that could achieve efficiency savings estimated at more than £17m.
The six trusts in the West Yorkshire Association of Acute Trusts are working with Hull and East Yorkshire Hospitals Trust, York Teaching Hospitals Foundation Trust and Northern Lincolnshire and Goole FT to examine new ways of medicine management.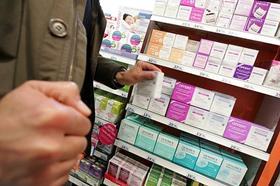 The trusts in WYAAT are: Airedale FT; Bradford Teaching Hospitals FT; Calderdale and Huddersfield FT; Harrogate and District FT; Leeds Teaching Hospitals Trust; and Mid Yorkshire Hospitals Trust.
Phase three of the project has just begun, with the first meeting last week, to consider a new model where medicines would be "picked and packed" by the wholesaler before being delivered to a central store instead of each trust having its own.
Medicines would then be delivered to pharmacy teams to "top up" supplies on wards and clinical areas, reducing the need for cash to be tied into stock in each hospital.
Project lead Professor Liz Kay, clinical director of medicines management and pharmacy services at Leeds Teaching Hospitals, said: "What we are proposing is to make greater use of pharmaceutical wholesalers rather than all of the picking and packing of medicines needed for a ward.
"Rather than being done in each hospital, we will ask wholesalers to do more of that for us, using a central store to receive goods from suppliers.
"Ultimately, that enables us to work in a collaborative way across the nine trusts and instead of nine stores, we would have one."
Trusts in Manchester and other parts of the country already collaborate on medication storage, though the project in Yorkshire and the Humber covers a larger geography.
WYAAT and other trusts in Yorkshire have already been collaborating on medication procurement, reducing unwarranted cost variation in drugs.
Under the new scheme, WYAAT and its partner trusts would work together to minimise the risk of medication shortages, with some staff centralised to work alongside hospital teams.
In phase one, Calderdale and Huddersfield and Leeds Teaching Hospitals considered how medicines were stored and handled to assess potential benefits in wider collaboration.
For phase two, a business case was agreed by WYAAT and the three other trusts to estimate potential savings.
By reducing stock held by each trust, an estimated one-off saving of £4.5m could be generated while, over 10 years, changes in the handling of medicines could save £13m.
Phase three, expected to last up to a year, will calculate actual savings from a different model as well as determine a location for the central store and how it will operate.
Currently trusts run a top up service where pharmacy staff handle, order and replenish stock required for each ward or clinical area.
A new system involving electronic ordering, where prepared medicines are delivered to wards from a central store, could be part of the plan.
Professor Kay said patients and frontline staff would see no difference.
She said: "It is the backroom function of handling the medicine where we think efficiencies could be made.
"It is picking up an element of Lord Carter's review and working that through but from the point of view of a patient, nurse, doctor or even pharmacist, they will not see anything different.
"This is about how we get stock on to the ward in a more efficient way."
She said some roles could change, with staff continuing to top up, albeit more efficiently and ensuring money is not tied up unnecessarily in stock.
She added: "We don't envisage we would not be requiring staff but we could ask them to do something different around how medicines are put away and moved around the hospital to make sure we don't overstock in some areas or under stock in others.
"People recognise this is an innovative approach and are very supportive of us going to the next step in assessing what costs will be in a different model.
"Only when we know that can we be clear about how we do that and the implementation of change will only follow once we have that information."