£38m dedicated cancer unit will occupy top four floors of Guy's and St Thomas' new cancer centre
Negotiations underway to offer NHS patients access to private robotics theatre
American hospital firm to rent the facilities on a 25 year lease
A major teaching trust in London is leasing the top four floors of its new cancer centre to an American private healthcare provider, in a deal intended to cut running costs for the new NHS facility.
London Bridge Hospital, which is owned by HCA Healthcare, will rent the facilities from Guy's and St Thomas' Foundation Trust on a 25 year lease from April.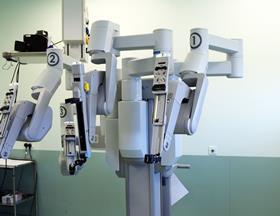 The £160m, 14 storey NHS cancer centre opened at Guy's Hospital near London Bridge in September.
The private facility will cost £38m to set up. It will host a robotics theatre with a Da Vinci robot for keyhole surgery, 40 inpatient beds, an intensive care unit and four operating theatres. It will offer surgical provision in urology, gynaecology, breast, ENT, maxillofacial, and head and neck cancer, as well as reconstructive surgery for those specialties.
The unit will be "clinically and operationally separate" from the NHS cancer centre, a spokesman for the trust said.
However, negotiations are currently taking place to offer NHS patients access to the private facility's robotics equipment – potentially increasing the capacity available to the NHS.
Guy's and St Thomas' cancer centre already has two Da Vinci robots, which enable surgeons to carry out minimally invasive urology procedures.
Private patients will not have access to NHS equipment at the GSTT cancer centre, the trust spokesman added.
The private centre will employ NHS consultants who also work at Guy's and St Thomas' – but consultants will not be permitted to "pop up" to the private cancer centre while they are working NHS shifts, the GSTT spokesman said.
Guys' and St Thomas' will provide support services such as cleaning and laundry to the private unit "on a commercial basis".
The trust declined to say how much HCA Healthcare is paying for the lease on the grounds that it was "commercially sensitive" information.
However, local media reported that Alastair Gourley, programme director of estate development at Guy's and St Thomas', told a Southwark council planning committee in 2012: "The income we receive from leasing 25 per cent of the building will pay for more than 50 per cent of the building."
The Southwark planning committee was told the centre would be funded via a £80m commercial loan plus grants from trust charities and King's College London.
HCA Healthcare's international arm runs 17 hospitals and clinics, mainly in London, including The Lister Hospital, The Portland Hospital, The Wellington Hospital and a private patient unit at The Christie in Manchester.
It claims to be the world's largest independent hospital company, with a turnover of £30bn, 164 hospitals and 106 outpatient centres, treating 14 million patients a year.
London Bridge Hospital was last week rated outstanding by the Care Quality Commission.
Jeremy Hunt tweeted last week that GSTT was "leading the way in providing world class cancer care and treatment".