The new chair of the NHS Partners Network expects to see greater engagement with independent providers in the NHS's sustainability and transformation plans.
Jim Easton, who held numerous senior NHS positions before taking up his current role as managing director of Care UK's healthcare division, told HSJ the involvement of private sector players in local STP processes was currently "developing and variable". However, he said this was only because "these processes have been put on the ground in a very high pressure situation, very quickly".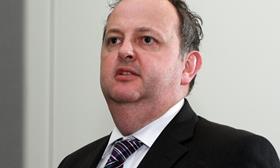 When Mr Easton took up the role of Partners Network chair last month, he said it would be an immediate priority for the organisation to speak to the leaders of each STP footprint about closer working with private sector providers.
Speaking to HSJ this month, he said that in those areas where private providers were an "important part of local capacity" it was "the right thing" for them to be involved in STP processes. However, he added that the sector had "aspirations to help beyond that", arguing that it could offer capacity, capability and capital investment to help develop new services and maintain performance.
Asked if he thought the independent sector had been left out of the STP process so far, he said it had received "a very good response from national colleagues to us asking the question: how can we make sure we're appropriately involved?"
He added: "I'm an old NHS lifer, I don't think the first thought of the NHS culturally is always to reach out to partners. Although I think that's improving."
He continued: "Local colleagues don't want hundreds of [organisations] all trying to sit round the table. It's only where there's a really significant, legitimate engagement in that patch and something very specific to offer that that's a legitimate place.
"Locally I think it's developing and variable, but I don't take those as criticisms. People are trying to put a new process on the ground very quickly, and we are part of trying to engage with that. So we'd like more [engagement]. I think we're going to get more engagement, but I think our position is just reflective of a very new set of processes."
On capital investment, Mr Easton said it was "universally accepted" that the plans outlined in the Five Year Forward View required "capital investment at a significant scale", yet capital funding in the NHS looked to be "in very short supply now and for the foreseeable future".
He added: "I think solutions have to be found to cross that bridge… and one of the offers I think the [independent] sector will make is how can we help in making some of the investments, where it fits with the expertise we've got.
"My colleagues and I in the independent sector, we're not banks. We're not just people to go out and borrow money from. But because of the kind of services and relationships we have with investors, we can secure investment for that change."