The 'gold plated' NHS pension scheme swallows 10 per cent of the service's budget, but even in these tight times reforming it is a challenge no party is keen to accep.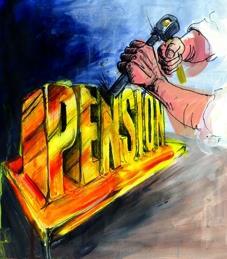 NHS pensions
The "gold plated" NHS pension scheme was recently described by a think tank - and several newspaper headlines - as contributing a large share of Britain's £1,032 trillion net public sector pension liability.
According to the British North-American Committee's report, that constitutes 85 per cent of Britain's GDP. It calculated the US's net liability at 28 per cent of its GDP.
However, the £1,032 trillion figure is based on what the government would need to find if every member of each of the public sector pension schemes called in their accrued pension entitlements tomorrow - effectively a run on the public sector pension bank.
In fact, the average annual income enjoyed by its members is just £7,000, or £3,500 if they happen to be female. No wonder there is room enough for it to pay almost a third of its £6.9bn income into the Treasury's - rather than NHS pensioners' - coffers each year.
So if there is a 21 billion per cent difference between what the schemes actually pay out a year and the hypothetical net liability sum if every member were to claim simultaneously, why all the fuss over their long term future?
"Making working in the public sector an attractive proposition is a good thing, but then having an expensive pension scheme is a bad thing and you have to balance the two."
Part of the reason may be those very same peculiarities of the reporting of pension liabilities. Although much of that may not chime with how the person in the street measures their financial liabilities and outgoings, it is the basis on which the health of national economies is compared. And in times when entire counties go bankrupt, that - and the threefold difference between Britain and the US - can matter.
The reporting standard FRS17, introduced in the public sector in 2007, requires organisations to report their pension liabilities as the total amount they are paying out to existing pensioners, as well as the total amount earned by current employees, even though they may be many years away from drawing their pension. That figure is netted off against a scheme's income and assets, which results in the Department of Health reporting the NHS pension liability as £10.2bn in 2007-08, rising to £13.4bn in 2010-11.
House in order
That sum is nominally underwritten by the Treasury and at around 10 per cent of the NHS budget, it is a tempting figure to focus on in the context of the coming financial squeeze in NHS spending.
Asked if he expects the scheme to be culled over the next decade, Primary Care Trust Network director David Stout says: "Is it something any government in the next period is going to look at? I'm sure they would. They can't rule it out."
The line from the Conservative party is: "Public sector workers deserve security in retirement, and that is why all pension rights that have already been accrued should be protected.
"It would be wrong for an opposition party to propose any detailed reforms to public sector pension schemes without full consultation with everyone involved."
The Conservatives have also made it clear that even if they were to propose changes to public sector schemes, they would only come after MPs had got their own house in order via a review of their "very generous" pension benefits.
But if the likely next government has pledged not to retrospectively change existing scheme members' earned entitlements, there is a limit to the financial gain to be brought by reform, at least in the short term. However, the other reason the NHS pension scheme has come under scrutiny is the extent to which it is seen as creating an unlevel playing field between NHS providers - who have access to the scheme - and private and third sector scheme providers, who often do not.
This pension issue has been at the top of the private sector's gripe list for the last two years.
A DH pension source tells HSJ it is unlikely to come forward with anything before the next election. The expectation there would be a change of government next summer means the department views time spent developing policy changes now as effectively "wasted".
A review of the issue due for completion this autumn is now expected to be kicked into the long grass.
CBI policy adviser Chris Heathcote tells HSJ: "We don't think a workable model will come out of the government until after the election. There is going to be a political vacuum."
Mr Stout says the elephant in the room is that the "easy" solution to the level paying field issue would be to simply remove the NHS scheme altogether - especially in the current economic climate. That is not a solution he endorses, however.
Perhaps surprisingly, it is also not the solution endorsed by the CBI, at least not in the short term. The business lobby group is more concerned with securing access to the scheme for its members who are involved in the public sector outsourcing market.
They claim the inability of its members to gain access to the scheme is "the major barrier" preventing their participation in the primary and community care market, valued at around £20bn a year.
CBI public services strategy board chair Kevin Beeston acknowledges this is a somewhat contradictory position, but says: "It's a short term/long term issue. We would like to see the long term issue of the unaffordability of public sector pension schemes dealt with. But [we are also] asking for the interim issue of the lack of a level playing field dealt with now."
The CBI has been frustrated by the DH's move earlier this year to block PCT provider arms from using the so-called retention of employment model to effectively allow NHS employees to move over to a non-NHS provider yet use a form of secondment to retain their formal NHS employment status and therefore access to the NHS pension scheme.
The model was originally designed to cater specifically for hospital facility staff such as cleaners, who were transferred under private finance initiative deals, and staff working for independent sector treatment centres.
Hard to ignore
As the future of both of those models of private sector involvement is expected to be very limited, the Treasury was alarmed to discover Guys and St Thomas's foundation trust using retention of employment when it outsourced its pathology services in a £250m deal with Serco in January.
A letter from the DH director general of workforce Clare Chapman quickly followed, stating the DH would not honour contracts based on the retention arrangement beyond PFIs and independent sector treatment centres after the date of the letter - 13 January.
The legislation enforcing that came into effect on 1 July. It outlaws NHS staff seconded to non-NHS organisations from accessing the NHS pension scheme except "in circumstances where the secretary of state for health considers that appropriate".
Pensions law specialist Neil Bhan, a partner at Beachcroft, says it could have a "significant impact" on PCTs' attempts to find new providers for their primary care and community services.
The DH has said PCT provider arms that establish themselves as social enterprises can retain access to the pension scheme. But Mr Bhan says the small print is more restrictive. Access to the scheme is granted to those employees transferring to the social enterprise from its outset. But access for any new employees taken on after that, even from elsewhere in the NHS, can only be granted through separate applications to the DH.
That means there is limited scope for taking on new people, even if they are currently employed in the NHS.
The change also potentially gives foundation trusts what could be seen as an unfair advantage, as they would be able to employ primary care and community service staff under NHS terms and with access to the pension scheme.
Mr Bhan says that potentially stores up a "disparity" between providers over recruitment and retention which PCT commissioners would find it hard to ignore when signing contracts for providers.
It is precisely that concern - recruitment and retention - that will have to be balanced against worries about the cost in any future reform of the NHS scheme, Mr Stout says. "We don't have a staffing crisis in the NHS in the way we do in other sectors.
"Making working in the public sector an attractive proposition is a good thing, but then having an expensive pension scheme is a bad thing and you have to balance the two."