Fourteen NHS trusts affected by Carillion collapse
Company involved in building work of two new hospitals
NHS Improvement asked trusts in December to review contingency plans amid fears over Carillion's future
Contingency plans are in operation across 14 NHS trusts after the collapse of construction and facilities management company Carillion.
Staff from NHS Improvement were deployed on Monday at six of the biggest hospital trusts affected by the liquidation of the company.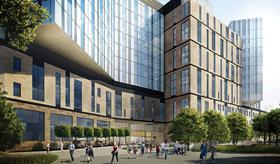 A spokesman for the regulator said the "vast majority" of Carillion staff had turned up to work yesterday.
The staff will be paid by the government with consultancy firm PwC appointed as the official receiver.
Carillion was involved in the building of two major new private finance initiative hospitals: the £350m Midland Metropolitan Hospital near Birmingham and the £335m Royal Liverpool Hospital.
Both projects had already fallen behind schedule.
Aidan Kehoe, chief executive of the Royal Liverpool and Broadgreen University Hospitals Trust, said arrangements are being made to establish a new company that Carillion staff can be transferred to.
"The Hospital Company which is contracted to deliver the project is empowered to terminate existing contracts and engage a new contractor to complete construction," he said.
"It also has access to insurance funds to enable it to complete the project.
"We want to reassure people that the new Royal will be built."
Toby Lewis, chief executive of Sandwell and West Birmingham Hospitals Trust, said the trust was working closely with the Treasury and the Hospital Company "as alternative arrangements are put in place to ensure that the construction of the Midland Metropolitan Hospital is completed".
Local media reported that several workers on the Midland Metropolitan Hospital site were turned away yesterday morning.
Carillion was subcontracted by PFI providers to operate services such as building maintenance, catering, cleaning and portering at 13 of the 14 trusts.
Three trusts also directly contract with Carillion.
Trusts that hold contracts with Carillion include Portsmouth Hospitals, Nottingham University Hospitals, South Tees Hospitals, North Bristol, Great Western Hospitals, and Dartford and Gravesham.
The company also provided services at "a number" of primary and community care services run by community health partnerships, but these are subcontracted through other companies according to NHSI.
HSJ understands NHSI asked trusts in December to review their contingency plans after it emerged that Carillion's future was at risk.
An NHSI spokesman said: "While the NHS isn't a particularly large customer of Carillion, we have a duty to maintain safe, high quality services for our patients.
"That's why we've been working with trusts and with private sector providers to have extensive contingency plans in place."
In October, Carillion, the UK's second biggest construction company, sold 15 contracts for NHS services to Serco in a deal worth around £47m.
The firm's troubles stemmed from losing money on big contracts and running up debts of around £1.5bn.
A spokesman for the Department of Health and Social Care said: "NHS Improvement has been helping trusts with planning and will continue to work intensively with trusts over the coming days. We will continue to support all organisations involved to minimise disruption."