EY wins contract to help create new NHS procurement management body
Contract worth between £7m and £20m
New body "likely" to report to NHS Improvement
A consultancy firm will be paid up to £20m to help set up the body managing the new NHS procurement model, HSJ can reveal.
EY saw off two other bidders for a contract worth between £7m and £20m from the Department of Health to assist in the design of the "intelligent client coordinator".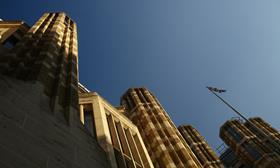 Seven bidders expressed interest but only three submitted final tenders, the DH confirmed.
The department said the bidders' identities were commercially sensitive. The contract started at the end of March.
The ICC is described by the DH as "critical" to the success of the new procurement "future operating model", which aims to double the amount of products the NHS buys centrally – ending some of the unwarranted variation highlighted in the Carter report.
Currently £5.7bn is spent on goods by the NHS every year, but only 40 per cent of this is channelled through national provider NHS Supply Chain.
NHS Supply Chain's contract ends on 30 September 2018, at which point the different components of the future operating model must be ready to come into effect, under the management of the ICC.
A DH spokesman said the ICC will comprise 220 staff by the time it is fully operational in autumn next year.
No chief executive nor any other members of staff have been hired so far. Governing arrangements for the body are still being approved and the DH was not able to say when a chief executive would be appointed or what their pay would be.
EY's contract to help design and set up the ICC lasts until 2019. The deal includes "providing backfill to any areas where recruitment does not occur fast enough", the DH spokesman said.
It is not yet known which organisation will run the ICC, but he said it will be a public sector body.
He said the ICC "is likely" to report to NHS Improvement, which is responsible for overseeing many of the efficiency recommendations outlined by the Carter review.
The DH said which organisation the ICC's staff would be part of "has yet to be determined", but "in the short term any recruitment will likely to be into the NHS Business Services Authority".
The authority holds the NHS Supply Chain contract with private company DHL.
Tenders for two of the other components of the future operating model have already been published in the Official Journal of the European Union, with the first batch of bids for six of the 11 "category towers" currently being evaluated.
Last month the tender for the technology tower was published, while tenders for the logistics and transactional towers will be published in the next few months.