More than £2bn of acute service funding has moved away from locally agreed deals and onto the national payment by results tariff this year, an HSJ investigation has found.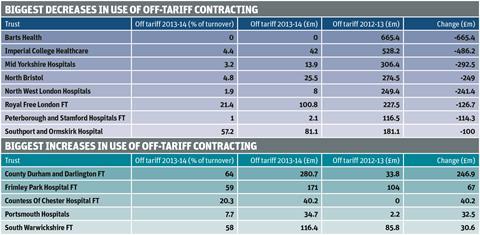 Off-tariff contracting
The move back to the tariff has been linked to the need to support financially troubled trusts. It comes despite widespread acknowledgement that payment by results in its current form encourages rising activity levels and fails to incentivise improved outcomes or integration across health and care providers.
HSJ sent freedom of information requests to 139 non-specialist acute trusts to ask how much of their income came from block contracts, capitated budgets or risk share agreements, and the change from last year.
The 91 responses showed at these trusts there had been a net movement of £2.03bn from "off-tariff" arrangements to straightforward payment by results.
Forty-nine trusts had a lower proportion of their income coming from off-tariff deals in 2013-14 in comparison with 2012-13. Twenty-seven had a larger proportion, while the remainder had no change.
For the vast majority of trusts the changes only affected a small proportion of their income. Most of the cash movement was driven by a small number of trusts and commissioners making radical changes to their contracting in 2013-14.
Between them, 10 trusts dismantled off-tariff deals worth a total of £2.4bn (see table).
Several of these trusts are known to be in financial difficulty. These include Peterborough and Stamford Hospitals Foundation Trust, Mid Yorkshire Hospitals Trust, and North West London Hospitals Trust.
Some trusts stressed moving back to the tariff would help them cope with high levels of demand. A Barts Health spokeswoman said: "We believe that this is a more effective way of getting additional revenue… we were doing so much activity that it made more sense to go on to payment by results."
North West London hospitals said its previous block contract was intended to help ease a planned merger with Ealing Hospital Trust. But, as the merger was not completed last year, "and with our emergency department being busy, we were keen to get back to performance related contracts to ensure that all activity is paid for".
Peterborough and Stamford said it was being underpaid by £9m under the previous block contract − but the gap has now "largely been closed" by moving back to the tariff.
Chris Calkin, chair of the Healthcare Financial Management Association policy committee, said payment by results offered "transparency and clarity". "Block contracts push issues under the carpet", he added, because "payment by results allows you to see what they are".
He said he knew of a clinical commissioning group and trust that had moved back to payment by results because the provider was in financial trouble and "this was a legal and positive way of supporting the trust".
Meanwhile, £400m of funding, spread between five trusts, has moved from the tariff to local arrangements. These include South Warwickshire and Frimley Park Hospital foundation trusts. However, only County Durham and Darlington has had more than half of its annual turnover change away from payment by results in 2013-14.
A spokesperson for County Durham and Darlington's three CCGs said their block contract would "ensure stability" during a period of transition in the NHS and create an incentive to move services from secondary to primary care.
The CCGs and trust see the arrangement as an opportunity to work together to "innovate, manage risk effectively and ensure that our focus is on developing effective pathways for patients".
Monitor and NHS England are currently reviewing payment by results. A joint discussion paper published in May acknowledged the system in its current form was "often cited as a barrier to delivering integrated care", and rewarded "activities, not patient outcomes".
Monitor interim pricing director Jason Mann told HSJ last summer that the expansion of payment by results − which in 2011-12 accounted for £29bn of acute contracting - was unsustainable and "may already have gone too far".
NHS Clinical Commissioners chair Charles Alessi, who has argued for payment system reform, said the existing system was "totally imbalanced in favour of the acute provider".
"As money gets short people move back to things that they feel comfortable with," he said. "This is your get out of jail card. You can always go back to activity based contracting, which in essence means your income is safe forever."