Contentious accounting measure used by dozens of NHS trusts to improve headline finances
But Treasury letter said the measure followed "neither the letter nor the substance" of relevant standards
Welsh government did not permit the "asset relifing" exercise
A controversial accounting measure used by dozens of NHS trusts to improve their headline financial position was described by the Treasury as following "neither the letter nor the substance" of the relevant standards.
As revealed last week, at least 50 trusts are thought to have adopted a "maverick" practice of extending the expected life of their building assets, which effectively enabled them to set less money aside for repairs or replacement.
These trusts have now been hit by an update to official guidance, which clarifies the practice is not appropriate. Many of them now face a recurrent financial impact of between £1m and £4m.
There has been debate and controversy around the "asset relifing" (also described as "long-lifing") exercise within the valuation industry for at least 10 years as to whether it was compliant with accounting standards.
HSJ has now seen a letter the Treasury sent the Welsh Assembly Government in 2010, which said: "We do not consider this asset relifing exercise to be in accordance with the accounting standards applied by the government financial reporting manual."
Welsh finance officials were concerned at the time about its health boards adopting the practice and asked the Treasury for advice. Head of financial reporting Chris Wobschall replied: "The Treasury has similar concerns that the relifing exercise follows neither the letter nor substance of [the international accounting standards]."
The Welsh government then circulated the advice to local health boards and said the practice "will not be allowable for the 2009-10 accounts".
However, dozens of English NHS providers have adopted the relifing practice over the last decade, many of which used a major valuation firm called Cushman & Wakefield to undertake the exercise.
HSJ has asked NHS Improvement, the Department of Health and Social Care and the Treasury whether they were aware of the practice being routinely deployed in England, but has not received a response to this question.
Questions about an official directive for trusts to "review asset lives" have also not been answered.
Trusts were told by NHSI in 2016: "Review all equipment and buildings asset lives given that less capital will be available for replacement in future. The resulting adjustment will reduce depreciation charges while creating a one-off impairment."
This came as NHSI and trusts were under heavy pressure to improve the headline financial position, and several sources in the trust sector told HSJ they felt it had encouraged providers to take a more liberal approach to asset lives, and thought it resulted in more providers using the relifing practice.
A DHSC spokesman said: "NHS accounting professionals are aware of the need to comply with the government financial reporting manual and International Accounting Standards 16. Every NHS organisation has their annual accounts audited independently and none have been recognised by their auditor as failing to comply with accounting standards."
HSJ has contacted several of the large audit firms, but they said they were unable to comment due to client confidentiality.
A Treasury spokesman confirmed the "so-called process of relifing" is not part of its guidance and "nor would it be compliant with standards as adapted or interpreted for the public sector".
As previously reported, Cushman & Wakefield has argued that the relifing practice adopted by its clients was in line with the previous guidance, and pointed out that it was consistently signed off by trusts' auditors.
For more details about the relifing practice, see last week's story.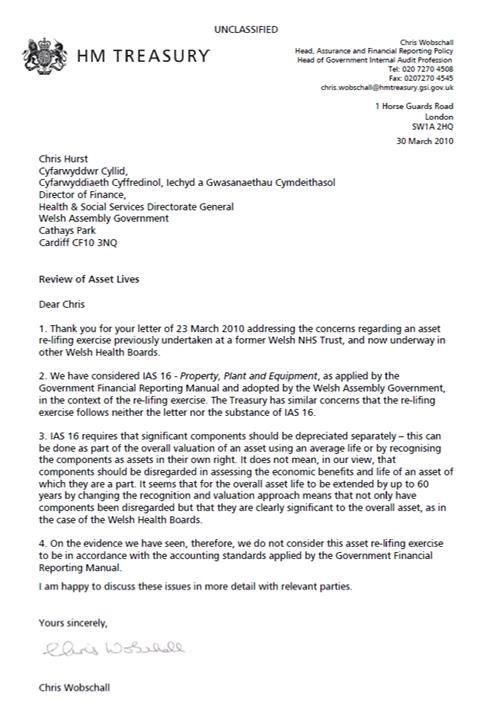 Source
Treasury letter to Welsh Assembly Government; information to HSJ
Source Date
March 2010; March 2019