Papers released by the Department of Health show trusts have borrowed hundreds of millions of pounds to pay suppliers, make redundancies and increase bed capacity.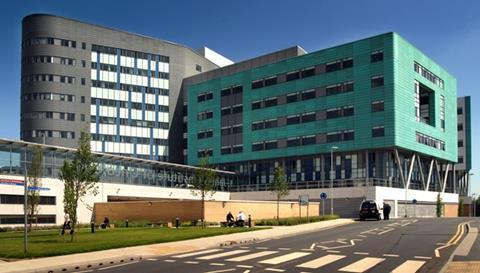 Leeds Teaching Hospital NHS Trust
The documents, which have been made public after HSJ used Freedom of Information legislation, show:
One trust borrowed £8m to make redundancy payments.
Two London trusts requested more than £100m each in bailout and capital loans to increase bed base.
A district general hospital's "unaffordable" merger collapsed, leaving the trust with difficulties recruiting clinicians after Monitor denied it a funding boost.
A large teaching hospital trust has £180m worth of estate "beyond economic repair".
A London trust asked for £58m to develop a new site while it sells its valuable existing estate in the capital.
The independent trust finance facility is the DH committee that receives loan and bailout applications from provider organisations. In late May the ITFF released application documents and agenda papers for the last two quarters of 2015-16.
Below we highlight some of the largest applications, and list links to all the applications in Q3 and Q4 of 2015-16.
South Tyneside Foundation Trust
In February, South Tyneside Foundation Trust applied to the ITFF for £8m to cover the upfront cost of a redundancy programme.
Documents released by the committee said staff costs at the North East trust were 10 per cent higher than peer organisations and the move could save £5m recurrently.
HSJ reported last month that South Tyneside had the highest staff sickness absence rate of any acute trust in England for three years in a row.
Steve Williamson took over as chief executive from Lorraine Lambert in September 2015. The papers said increasingly close working with City Hospitals Sunderland FT could see the organisations share a chief executive. Ken Bremner has led the Sunderland trust since 2004.
Minutes of the committee's discussion about the loan, which was approved, added: "Accepting that the trust has financial pressures like many, the question must be around how longer term sustainability can be maintained by trusts this size." South Tyneside has a turnover of £208m and a workforce of 3,500.
The "extensive" redundancy plan would start with voluntary redundancies and only make compulsory layoffs as a last resort.
The loan request was recommended for approval by the ITFF committee in March.
The trust did not deny the plans. A statement by finance director Helen Patterson last week said: "The trust has applied to the ITFF for a loan of £8m, to be repaid over a four year period. The board has identified a number of key programmes upon which to focus to deliver transformation and sustainability and these are consistent with the output from Lord Carter's productivity and efficiency review. One of the programmes is workforce reduction and this centres on reducing pay costs within overheads rather than on reducing frontline staffing."
Weston Area Health Trust
Weston Area Health Trust asked for £7.7m in revenue, saying it was "finding it difficult to retain clinicians".
The West Country trust, rated inadequate for safety by the Care Quality Commission in August, also had its application to Monitor to increase the amount it receives under tariff rejected – although local commissioners have agreed to pay a premium for emergency care.
The ITFF minutes said: "The committee noted that the trust is still looking at all options for a sustainable future (a recent option with Taunton and Somerset has proved unaffordable), but that there is currently no set timeframe for a plan. In the meantime the trust is finding it difficult to retain clinicians."
London hospital trusts
Two London trusts asked for more than £200m between them to support revenue costs, payments to suppliers and opening new beds – with one admitting it will not break even for five years.
In December, London North West Healthcare Trust received £105m from the ITFF, consisting of £69m to cover a revenue deficit, £21m to improve liquidity and £8.8m to increase its bed base.
The trust, formed from the merger of Ealing Hospital Trust and North West London Hospitals Trust in October 2014, saw its financial performance deteriorate "significantly" in 2015-16, ITFF documents revealed.
The organisation had been predicting a £19.1m deficit after "synergy savings" from the merger of £15m. Instead the trust has a deficit of £75m.
The ITFF committee criticised the governance of the trust and the NHS Trust Development Authority for allowing the situation to worsen.
Committee minutes from December said: "While steps are being taken now, the committee questioned why intervention is seemingly so delayed. At the time of the transaction, the committee recommended to TDA that additional board strength would be required. It would appear that delays in rectifying this issue, as well as seemingly poor due diligence, have led to significant problems that have in turn been allowed to worsen for a significant period of time."
A trust spokeswoman said: "The trust recruited a new chief executive and executive team in 2015-16 and they were all in place by the second half of 2015-16. In addition, an improvement director and team were appointed midway through the year.
"With the new team, the trust was successful in halting a further deterioration in financial performance and ended the year achieving the planned deficit. The monthly pay costs were reduced by an average of £2m (5.2 per cent) a month in the second half of the year compared to the first six months and this improvement has continued into 2016-17."
In south London, King's College Hospital Foundation Trust asked for £98m in revenue funding.
Its application said it aimed to submit a "recovery solution" in quarter three of 2016-17.
The committee praised the trust, saying: "There are signs that the problems are being contained with a significant reduction in monthly negative run rate and an aggressive savings plan starting to deliver cost savings.
"It seems clear that the problems are not necessarily all a consequence of the south London reconfiguration but historically a legacy split between Denmark Hill and Bromley [the trust's two main sites]".
Tavistock and Portman Foundation Trust
England's smallest mental health trust approached the committee for funds to enable it to develop a new site while it works on selling its valuable current estate.
The Tavistock and Portman Foundation Trust in north London applied for a £58m loan in January.
ITFF minutes said: "The committee noted that this transaction essentially pays for itself given the value of the trust's existing sites. Whilst it was prepared to recommend an approval in principle, it felt that the current early stage of the project warranted a further review of how risks are to be mitigated in respect of the project management skills required for a project of this scale and also, around the disposal of the various properties involved, in particular, the timing and values to be achieved."
Leeds Teaching Hospitals Trust
Minutes of an ITFF meeting in September said Leeds Teaching Hospitals Trust has £180m of estate that is "deemed beyond economic repair" – although the trust denies this.
A spokesman said the trust's backlog maintenance total was £88m but this was the legacy of having one of the largest estates in the NHS, including some listed buildings.
The trust's new estates strategy is due for completion by the end of the summer.
More trusts applying for funding
Other trusts applying for revenue or capital funding from the ITFF in Q3 and Q4 2015-16 were: