Extra payments to trusts have come from the £1.8bn sustainability and transformation fund for 2016-17
A large portion of the fund was withheld from acute providers that missed their financial targets
Reallocated funds overwhelmingly benefit mental health, community, specialist and ambulance sectors
Several community and mental health trusts have received significant extra investment funding that was originally intended for the acute sector.
The extra payments have come from an unearned portion of the sustainability and transformation fund, worth more than £300m, that was withheld from trusts missing their financial targets in 2016-17. Most of these missed payments related to acute organisations such as King's College Hospital and St George's University Hospitals foundation trusts.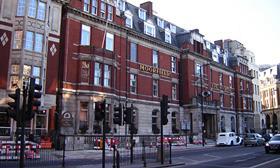 Payments from the unearned "bonus" pot were only confirmed by NHS Improvement in the weeks after trusts' submitted their year-end financial data. These have now been published in NHSI's official performance report for the financial year.
There has long been criticism about extra NHS funding being swallowed predominantly by acute hospitals at the expense of other trusts, and there were concerns last year the STF was being targeted mainly at hospital services.
However, the data published by NHSI suggests the reallocation of the unearned pot has largely benefited mental health, community, specialist and ambulance trusts.
In total around 40 providers received at least double the amount of STF that they were originally allocated (see table below) with the reallocation appearing to largely benefit non-acute trusts.
For example, Surrey and Borders Partnership Foundation Trust, has been awarded around £6m of STF, compared to its original allocation of £1m. Hertfordshire Partnership University FT, another mental health provider, received almost £6m compared to its original allocation of £1.2m.
Moorfields Eye Hospital FT, a specialist trust, got the highest amount of extra STF compared to its original allocation, receiving an extra £6m.
While the extra cash will be welcomed, the trusts must treat the payments as non-recurrent and will therefore still face the same ongoing financial challenges.
However, the money can be used to invest in building and IT projects, for which funding has become increasingly scarce. The lack of capital and transformation cash has been one of the key concerns expressed by NHS leaders, so these payments may allay some of those fears in areas that have received extra money.
But Niall Dickson, chief executive of the NHS Confederation, which represents health organisations, said there is a danger of "squabbling about scraps from the table" around the STF.
He said there is an urgent need for transformation funding and added: "What is needed is a simpler and clearer ring-fence around transformation funding, which is a genuine addition to what is required to keep the lights on. That is what the government needs to announce in the budget statement later this year – we need a plan to accelerate change and invest in the future."
The overall STF, worth £1.8bn, was aimed at incentivising trusts to improve their financial position, with payments from the fund withheld if targets were missed.
Analysis of the initial trust submissions by HSJ suggested that the distribution of the overall fund has led to greater disparity between trusts, with large acute trusts such as Central Manchester University Hospitals FT and University College London Hospitals FT becoming significantly stronger, and others left "drowning in debt".
There has also been criticism of the fact that some trusts could trigger additional STF payments by improving their position through land sales and technical accounting measures, rather than through operating efficiencies.
The figures published by NHSI also show some of the largest payments from the £300m bonus pot were received by non-acute trusts able to improve their position through land disposals, including Moorfields, Surrey and Borders, and Central and North West London.
Under NHSI accounting rules, land sale profits for some trusts, including Surrey and Borders and CNWL, have not affected their reported surplus. But the profits did positively impact the combined position of the trust sector, and the trusts were therefore rewarded with additional STF money.
Trusts receiving the biggest STF 'bonus' in 2016-17
| | | | |
| --- | --- | --- | --- |
| Trust | Improvement on control total (excluding STF) £'000 | Extra STF money received £'000 | % of original STF allocation received |
| Moorfields Eye Hospital FT | £4,222 | £6,008 | 646 |
| Surrey and Borders Partnership FT | £86 | £4,954 | 616 |
| Hertfordshire Partnership University FT | £4,333 | £5,831 | 556 |
| North East Ambulance Service FT | £1,608 | £3,122 | 540 |
| London Ambulance Service Trust | £5,251 | £8,005 | 490 |
| Tees, Esk and Wear Valleys FT | £5,113 | £7,670 | 487 |
| The Clatterbridge Cancer Centre FT | £520 | £1,817 | 463 |
| Cornwall Partnership FT | £1,893 | £3,449 | 428 |
| South London and Maudsley FT | £2,105 | £7,386 | 424 |
| The Royal Marsden FT | £2,544 | £4,408 | 394 |
| East Midlands Ambulance Service Trust | £1,473 | £2,176 | 387 |
| South Essex Partnership University FT | £1,949 | £3,999 | 380 |
| Central and North West London FT | £12 | £7,332 | 365 |
| Dorset Healthcare University FT | £3,076 | £4,814 | 351 |
| North West Ambulance Service Trust | £883 | £4,641 | 350 |
| Lincolnshire Partnership FT | £385 | £1,391 | 340 |
| Oxford Health FT | £1,789 | £4,686 | 331 |
| Coventry and Warwickshire Partnership Trust | £1,487 | £2,443 | 304 |
| Royal Surrey County Hospital FT | £14,455 | £15,204 | 297 |
| Devon Partnership Trust | £530 | £1,674 | 295 |
| University College London Hospitals FT | £27,514 | £27,039 | 284 |
| South Staffordshire and Shropshire Healthcare FT | £1,004 | £2,024 | 279 |
| Shropshire Community Health Trust | £562 | £1,234 | 276 |
| Hounslow and Richmond Community Healthcare Trust | £363 | £999 | 267 |
| Northamptonshire Healthcare FT | £864 | £1,870 | 264 |
| Tavistock and Portman FT | £204 | £809 | 262 |
| Leeds And York Partnership FT | £380 | £1,407 | 256 |
| The Christie FT | £1,045 | £2,314 | 245 |
| Pennine Care FT | £985 | £1,901 | 243 |
| Bridgewater Community Healthcare FT | £609 | £2,090 | 235 |
| Rotherham Doncaster and South Humber FT | £421 | £1,245 | 231 |
| Northumberland, Tyne and Wear FT | £1,285 | £2,321 | 227 |
| South Central Ambulance Service FT | £37 | £1,343 | 226 |
| Birmingham and Solihull Mental Health FT | £741 | £1,715 | 225 |
| North Staffordshire Combined Healthcare Trust | £47 | £604 | 221 |
| Central Manchester University Hospitals FT | £27,049 | £23,876 | 218 |
| The Robert Jones and Agnes Hunt Orthopaedic Hospital FT | £52 | £548 | 210 |
| Derbyshire Healthcare FT | £31 | £906 | 209 |
| Birmingham Children's Hospital FT | £2,859 | £5,320 | 209 |
| Norfolk and Suffolk FT | £125 | £1,360 | 207 |
| Norfolk Community Health and Care Trust | £109 | £816 | 206 |
| Sheffield Health and Social Care FT | £98 | £739 | 203 |
| Guy's and St Thomas' FT | £18,306 | £19,010 | 199 |
| Dudley and Walsall Mental Health Partnership Trust | £4 | £495 | 199 |
| Mersey Care FT | £71 | £1,613 | 197 |
| Bradford District Care FT | £6 | £765 | 197 |