NHS Improvement has set out plans to set up 29 pathology networks across the country
Royal College of Pathologists president says investment is needed to connect IT systems
Jo Martin: "It's hard to really create a proper network unless you're linked up"
The new president of the Royal College of Pathologists has said she is concerned about a lack of investment in new laboratory IT systems amid a national overhaul of NHS pathology departments.
Professor Jo Martin, who became president last month, told HSJ the benefits of consolidation will not be achieved without a strong IT infrastructure supporting the new proposed pathology networks.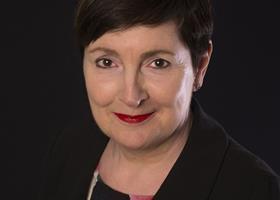 In September, NHS Improvement set out plans to create 29 pathology networks across England, each covering populations of 1.5 million to 2 million, in a bid to save £200m by 2020-21.
The networks will use the "hub and spoke" model, where the hub will be the lead provider and process complex and high volume tests, while the spokes will provide more routine hospital laboratory services.
Professor Martin, an honorary consultant at Barts Health Trust, said patients would not be served if networks were created without integrated laboratory information management systems in place.
NHS trusts currently use a variety of LIMS, which interact differently with patient records and GP systems.
The royal college estimates procuring and implementing an integrated LIMS across a network could take 2-5 years and cost up to £5m.
Professor Martin said NHSI has signalled that there will be no associated investment for LIMS and networks will have to factor this into their business cases.
A spokeswoman for NHSI said the regulator is providing "guidance and support" to providers at "every stage".
The Department of Health did not respond at the time of publication.
Professor Martin said: "It would be quite common for a trust to have electronic links to their general practice, but not the same system across a network.
"If they are in one network and expected to work together it's hard to really create a proper network unless you're linked up.
"If you create a network where there's no infrastructure or you don't create an infrastructure to support it, it doesn't serve patients well.
"There are opportunities that could be taken around networking, and it would be a shame to not realise the full potential value of a network through not taking advantage of futureproofing some of those networks with good IT."
She cited problems at the Pathology Partnership in East Anglia, where seven trusts attempted to form one network – only for it to split into west/east networks earlier this year.
One of the difficulties the partnership ran into was managing the IT system, with staff experiencing a need for the pathology service to be shaped around the IT systems rather than the IT systems underpinning the pathology service – according to a briefing for the college.
Under NHS Improvement's plans, five of the trusts will be in the same network again.
HSJ asked if the trusts would be allowed to remain in their west/east networks, and what learning NHSI had taken from the partnership, but the regulator did not answer.
The regulator refused to reveal how many trusts have agreed to form NHSI's proposed networks, but its spokeswoman said 98 per cent of trusts have agreed to deliver a collaborative pathology service "in principle".
The spokeswoman said: "We have been working closely with all NHS providers to develop and deliver a more responsive and efficient pathology service to patients, that will provide patients with faster and more reliable screening test results for illnesses, including cancer.
"At every stage we have been providing support and guidance to providers, including a series of direct discussions with trusts to enable them to contribute to the proposed changes, and ensure the transition is managed effectively."
Asked how plans for the networks could affect the pathology workforce, Professor Martin said trusts must provide "good local engagement" to ensure key staff are not lost.
"It may involve a change of workplace and we're a bunch of humans doing highly skilled jobs," she said.
"We know during periods of uncertainty we have more retirements from key posts than we do if the service is stable."
Maintaining training and research is also a concern, Professor Martin said.
"Trainees need to get a range of various specialties and you need to have exposure to a broad range of elements and people to train them," she said.
"As you consolidate you get efficiencies but you may lose staff who train upcoming staff and we know it's more difficult to recruit to a district general hospital."
She said she believed networking provided opportunities to save money but the changes should be about "professionals working together to get services to patients where they need it most with appropriate expertise".
Trusts have been given until the end of January next year to formally agree a partnership or outsourcing model, and set out the implementation timeline to NHSI.
Some trusts had already drawn up their own plans for consolidation, such as four trusts in the Black Country and four trusts in Lancashire.
Professor Martin said: "There is some discussion about the form of the networks and some trusts are suggesting alternate forms and alternate arrangements.
"Most are happy to explore what it could mean for them and the CEOs are going along with it."
NHSI analysis shows the 105 hospitals with pathology services complete 1.12 billion tests a year, at a cost of £2.2bn.
Article updated at 10.07am on 7 December to include NHSI response.