Serco in talks to take over part of Carillion's healthcare business
Contracts include facilities management services at five NHS acute trusts
Uncertainty over when construction will restart on two new hospitals
Facilities management services at five NHS hospital trusts could be taken over by Serco in a £29m deal, following the collapse of Carillion.
Serco's healthcare arm is in talks over contracts at:
Cambridge University Hospitals Foundation Trust;
Dartford and Gravesham Trust;
Great Western Hospitals FT;
North Bristol Trust; and
South Tees Hospitals FT.
More than 1,600 former Carillion staff provide estates management services across these trusts.
Under current plans, Serco will pay £29.7m for 15 public sector contracts previously held by Carillion. Five involve the trusts listed above. The value of the NHS contracts is not known.
The price is £18m less than agreed with Carillion in December. Serco negotiated a cheaper deal following the company's liquidation last month.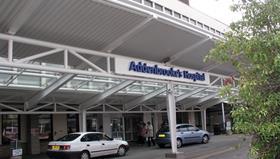 A "business purchase agreement" has been signed between Serco and PwC, which is tasked with finding new owners of Carillion's contracts.
However, negotiations with the trusts and private finance initiative providers must also be concluded before the contracts can transfer to Serco.
The 15 contracts have current annual revenues of £90m and have an average of 14 years left to run.
Serco said the contracts were expected to generate around £8m "underlying trading profit".
Serco's UK health business unit has annual revenues of £240m.
Fifteen NHS trusts have been affected by Carillion's collapse (see box below). Most have PFI providers that subcontracted with Carillion, while three trusts directly contracted with the company.
Carillion's contracts ranged from estates maintenance, cooking, cleaning, catering and other forms of facilities management, to building new hospitals in Liverpool and Birmingham – both of which were already behind schedule before the company's demise.
Aidan Kehoe, chief executive of Royal Liverpool and Broadgreen University Hospitals Trust, said: "There are highly complex discussions taking place between various parties to get subcontractors back onsite as soon as possible.
"However, many of these firms are facing financial difficulties as a result of Carillion's collapse, therefore this process will take some time."
He expected a "significant delay" to the project and said it would "prove challenging" to get the hospital built before the end of 2018.
The latest board papers from Sandwell and West Birmingham said the cost of the new Midland Metropolitan Hospital is likely to go up because of the Carillion collapse. It was previously estimated to cost £350m.
Chief executive Toby Lewis said PFI provider The Hospital Company (Sandwell) was working to find a funding model and contractor.
NHS trusts affected by Carillion's collapse
Acute trusts
South Tees Hospitals FT (900 staff affected)
Portsmouth Hospitals Trust (900)
Oxford University Hospitals FT (528)
Great Western Hospitals FT (398)
Dartford and Gravesham Trust (300)
Royal Liverpool and Broadgreen University Trust (68, not including staff building the new hospital)
North Bristol Trust (66)
Sandwell and West Birmingham (unknown number of staff affected)
Epsom and St Helier University Hospitals Trust (unknown)
Cambridge University Hospitals FT (unknown)
Community and mental health trusts

North Staffordshire Combined Healthcare Trust (70)
Tees, Esk and Wear ValleysFT (26)
Leicestershire Partnership Trust (one)
Derbyshire Healthcare FT (unknown)
Lincolnshire Community Health Services Trust (provides services from hospital owned by NHS Property Services whose contractor contracted with Carillion – unknown number of staff affected)
Canadian facilities management company BGIS is in talks with PwC over taking on some of the other NHS contracts formerly held by Carillion, though the exact number is unknown.
The company is a subsidiary of Brookfield Business Partners, a private equity group based in Hamilton, Bermuda.
The group owns construction firm Multiplex, which built Peterborough City Hospital in 2010.
Source
Information obtained by HSJ