Capped expenditure areas must "get on with" savings, says Simon Stevens
Search for more "hard choices" has largely stopped
Still unlikely to meet waiting list target this year
Expect more tough national savings programmes
The NHS England chief executive has said organisations in the capped expenditure process "need to get on with" making planned savings, with the current search for further "hard choices" completed in most of them.
Simon Stevens also said he expected there would be more similar national drives to make savings through difficult decisions in future.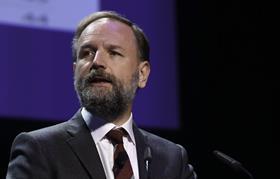 The areas of the country forecasting the largest proportionate overspends against target were told in April to consider further efficiencies and "difficult choices" to stay within budgets, under the CEP process, initiated by NHS England and NHS Improvement.
Several had been considering systematically drawing out waiting times for planned care, including explicit consideration of breaching the 18 week waiting standard, and limiting patients' ability to opt for non-NHS providers. However, NHSI chief executive Jim Mackey wrote to providers last month stating that constitutional standards over waiting times and patient choice would need to be maintained.
HSJ understands many senior figures in CEP areas have been left confused following the letter and no clear update on the process from NHS England.
Mr Stevens, in an interview with HSJ, confirmed around £250m savings had been identified. The initial gap is thought to have been around £500m.
He indicated the process to identify further savings through CEP had mostly stopped, however "there are nuances in a few individual parts of the country", and the areas should be implementing what they had planned.
"We are now in early July, so it's time to be getting on with delivering," he said.
Asked what kind of "difficult choices" had been made, the NHS England chief executive said: "[The areas] will set out what they're doing but they've got to obviously do that within their agreed control totals as reflected through the discussions they've had with NHS England and NHS Improvement over the last couple of months.
"They now need to get on with it, don't they, because we're in July… The longer you leave it the tougher it is."
In March, when NHS England published Next Steps on the NHS Five Year Forward View, Mr Stevens said it was unlikely the service would meet the elective referral to treatment waiting time standard in 2017-18, as it prioritised other things.
Asked whether the position had changed, he told HSJ last week: "We do want to expand the amount of routine surgery that the NHS is delivering this year and we do want to keep short waits… But the position is exactly as we said it at 31 March, which is that given the competing calls on resources then we're at the 90 per cent rather than 92 per cent zone on [RTT performance]." He said patients' right "to be able to choose where they have their elective services… is undiminished".
On mental health investment – another area of concern in relation to the CEP – Mr Stevens said "we are absolutely confident that across England the mental health investment standard for [clinical commissioning groups] will have been met in 2017-18". However, he said "in one or two places" it appeared CCGs were already "spending a lot more than would be expected based on the mental health needs of their population on some aspects of the services".
In relation to future years, Mr Stevens said: "Most people suspect that going into 2018-19 is also going to require some very difficult action as well, on the current funding."
Stevens: NHS could create new national 'council' to share decision making
1

2

3

4

Currently reading

Stevens: Capped expenditure areas must 'get on with' savings