Stevens cites Brexiteers' NHS funding promises
Two weeks ahead of the budget
He will describe consequences of ongoing NHS funding squeeze
Simon Stevens will today step up his calls for the government to increase NHS spending in coming years, suggesting voters will feel betrayed if promises made in the Brexit campaign are not delivered.
The NHS England chief executive's comments come two weeks ahead of the budget.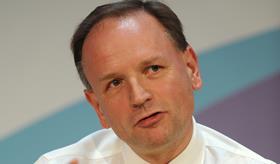 Mr Stevens is expected to say: "The NHS wasn't on the ballot paper, but it was on the battle bus. Vote Leave for a better funded health service - £350m a week."
He will argue at the NHS Providers conference in Birmingham that "trust in democratic politics" will be damaged if the public is told it cannot have a "better funded health service".
He is not expected to put a figure on the additional sums required, which in recent days have been put at at least £4bn annually by independent organisations.
Mr Stevens is expected to set out the "consequences" of the ongoing funding squeeze in his speech this morning.
He will quote Vote Leave campaign director Dominic Cummings who said in January: "Would we have won without £350m/NHS? All our research and the close result strongly suggests No. Some people now claim this was cynical and we never intended to spend more on the NHS. Wrong.
"Rather than our criticising these clear Brexit funding commitments to NHS patients – promises entered into by cabinet ministers and by MPs - the public want to see them honoured.
"By the end of the NHS' next financial year – March 2019 – the United Kingdom will have left the European Union.
"Trust in democratic politics will not be strengthened if anyone now tries to argue: 'You voted Brexit, partly for a better funded health service. But precisely because of Brexit, you now can't have one.'"
It is understood Mr Stevens will use an image of the notorious battle bus in his presentation.
Prominent pro-Brexit cabinet members Boris Johnson and Michael Gove have previously stated there should be a funding boost for the NHS as a result of Brexit.
Mr Stevens will also argue: "A modern NHS is itself part of the practical answer to the deep social concerns that gave rise to Brexit."
His comments represent a stepping up of Mr Stevens' calls over recent months and years for government NHS spending plans to increase.
He said in July 2016, shortly after the EU referendum: "Both leave and remain campaigned for a strong - and indeed a better funded - NHS. So the public, regardless of how they voted, will rightly want our new political leaders to deliver on that promise."
He has also said several times that current revenue spending plans, which include reductions in real terms spending per head of population in the coming two financial years, are not viable.
However, government has previously argued it "gave the NHS what it asked for" in the 2015 spending review settlement. At the autumn statement 2016, chancellor Philip Hammond said the NHS "senior management team… has been given the money and I think we should allow it to show what it can do".
During the general election campaign earlier this year, Theresa May promised a significant increase in capital spending.
In addition to demands for more funds, there have been growing calls in the NHS for a reduced set of expectations on the service if there is not enough money to deliver. Jim Mackey, outgoing NHS Improvement chief executive, added to these today.
HSJ Live 08.11.17: Simon Stevens and Jeremy Hunt speeches - catch up
1

2

Currently reading

Stevens invokes Brexit battle bus in pre-budget funding call