Lord Carter questions the NHS's £640m spending on management consultancies
Likened policymakers to a "dog watching television"
Warns the Treasury will not provide extra funding without evidence of performance
Lord Carter has questioned why the NHS spent £640m on external management consultancies, describing the use of the firms as a personal "bugbear".
The Labour peer, who published a landmark efficiency review on the NHS last year and was speaking in personal capacity, also took aim at policymakers for not anticipating the country's ageing population. He likened them to a dog watching television – "he can see it but he doesn't get it".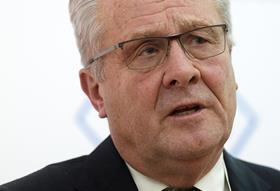 Lord Carter, who is also a non-executive director of NHS Improvement, warned that the Treasury would not look kindly on the NHS if it fails to show it can improve its financial performance. He also questioned trusts' cancellation of elective work, which he said was vital for hospital budgets to balance.
In comments at a Royal College of Anaesthetists event this week, attended by HSJ, the peer described the state of the NHS as "like being in a war", which he said could not continue forever.
His comments are likely to embarrass the government, which is coming under increasing criticism for problems affecting the NHS.
Lord Cater said efficiency work in the health service had to be clinically led.
"I have got a bugbear with employing management consultants to solve problems in the National Health Service," he said.
"If I tell you, the year before last [2014-15] we spent £640m on them. I asked each of them to come in and tell me where not only had they analysed an issue but they had solved it, and would they come back to me and explain how they had solved it. I am still waiting for the calls.
"Within our great National Health Service many people are doing it right so the trick for us is how to take that and to push it back and share it with people in a constructive way, which is why it has to be clinically led."
He said the problem of delayed transfers of care had to be tackled because it was leading to "idle theatres, idle surgeons, and idle clinicians", adding: "That is all the work we need to get into financial balance. If we aren't doing the electives, how do we make the hospital budgets back? It's a nightmare."
He said: "You know the old adage of the dog watching television: he can see it but he doesn't get it. I sometimes think our policymakers are like this. The number of over-85s [in the UK] is apparently a surprise and yet anyone who has looked at the demographics has seen it coming and we are now sitting here in a state of absolute surprise."
Lord Carter also praised parts of the NHS, describing the service as potentially one of greatest in the world and offering excellent value for 6.5 per cent of GDP.
However, he warned that unless the NHS reduced its average length of stay it would continue to send work to the private sector: "My estimate would be £1bn of work has gone out to the independent sector. I am not against the independent sector but I am pro the NHS and I would rather the work stayed in the system. We have got to organise ourselves to find better ways in the care pathways to do that."
He said a "sunny upland" was at least three years away. "The Treasury takes a view if they gave us another billion or two we would just swallow it up as we have in the past and we would not actually materially make a difference and we would stand there saying 'more money, more money'," he said.
Lord Carter said "quality was not negotiable… we have to fight for it all the time. But it is harder now because there is less money.
"We need a number of things to happen. We need political air cover and a bit of political bravery because this isn't easy and we need everybody to keep their nerve and that is very, very difficult.
"We need to talk the service up rather than down, and need to be incredibly proud that our hospitals are running so hot and yet they haven't broken. It is a staggering achievement, it's like being in a war actually. We should be extraordinarily proud of it but you can't continue on a war basis forever."
The financial results for quarter three of 2016-17 are due out in the coming weeks and, although he hadn't seen them, Lord Carter said he was "not very optimistic".