Conservative leader backs Naylor review
Theresa May publicly commits to £10bn capital investment
Funding to come from asset disposals, private sources and new Treasury funding
The Prime Minister has promised an extra £10bn of capital investment during the next Parliament if she wins the general election.
The funding would be over and above the additional £8bn of revenue funding pledged in last week's Conservative Party manifesto.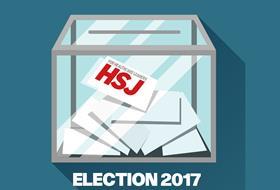 In a BBC interview this evening Theresa May said "we're backing the proposals in the Naylor report", which was published in March and identified the level of investment in infrastructure the NHS needed.
Pressed on how much investment the Conservatives would make, Ms May said "it's £10bn".
The manifesto promised "the most ambitious programme of investment in buildings and technology the NHS has ever seen", but did not set out details on how much extra capital funding would be provided.
Investment would come from "a variety of sources", Ms May said. HSJ understands that although some will be new money from the Treasury, much will come from private sources and sales of existing NHS estate.
Most of the £10bn could come from selling existing NHS property. Sir Robert Naylor said that £6bn could be raised if the NHS took a more "commercial approach" to selling land and buildings.
The Naylor review warned the £10bn new capital requirement estimate was based on "a conservative estimate of backlog maintenance at £5bn". It said "a similar sum" was "likely to be required to deliver the Five Year Forward View".
HSJ reported last month that Sir Robert said he believed there were five sites in London which between them could release £5bn if sold.
The Naylor review also stated that private capital could be used to invest in primary care, and said the Treasury should "provide additional funding to incentivise land disposals through a 'two for one offer' in which public funds match disposal receipts."
And, the review recommended ministers "provide robust assurances to STPs that any sale receipts from locally owned assets will not be recovered centrally provided the disposal is in agreement with STP plans".
Last week the Conservatives pledged a minimum £8bn extra in real terms for the NHS by 2022-23, above 2017-18 spending, while committing to real terms per capita growth in every year.
This effectively extends the rate of revenue growth provided for in the 2015 spending review – although it also suggested there would be extra revenue funding in 2018-19 to ensure an increase in spending per person next year.
The government had not fully responded to the Naylor report's recommendations when Parliament was dissolved on 3 May.