East Sussex Healthcare Trust placed in financial special measures in October 2016
Eastbourne,

Hailsham

and

Seaford

, and Hastings and

Rother

CCGs

under legal directions since July 2018
Three further

CCGs

in

STP

remain under legal directions
Three organisations, which are part of a sustainability and transformation partnership once seen as one of the country's most challenged, have left financial special measures.
East Sussex Healthcare Trust had been in financial special measures since October 2016, while Eastbourne, Hailsham and Seaford, and Hastings and Rother Clinical Commissioning Groups had been under legal directions – the equivalent of special measures for CCGs – since July 2018.
Over the last three years, the trust, which left quality special measures in June 2018, has halved its monthly deficit. Its 2018-19 year-end deficit was £45m, a £10m improvement on the previous year.
Three further CCGs in the Sussex and East Surrey STP remain under legal directions. East Surrey, Crawley, and Horsham and Mid Sussex CCGs are all still under directions for finance, although they had directions for leadership lifted last November.
The organisations have credited their improvements to joint working under a new system-wide approach to cost savings, including from NHS England and Improvement, which have dealt with CCGs and the trust together rather than separately. The CCGs and trust said that having "aligned incentives" was helping them focus on jointly managing spend and developing services to manage patients better, which "potentially reduces the amount of money being spent on acute services".
The trust has already made savings by, among other things, reducing unnecessary length of stay, reducing harm from falls and pressure ulcers, reducing temporary staff spend, reducing sickness, and driving down the cost of expensive medicines and devices.
Adam Doyle, who is the CCGs' chief executive and senior responsible officer for the STP, said: "I'm really pleased for everyone involved because I know how hard they have worked to make this happen. The significant progress we have made across both our local and wider system has been down to greater collaboration between partners, strong leadership and, most importantly, a real collective focus on making improvements for the people we serve.
"We recognise there are still areas that need further improvement but we are now in a much better position to focus on them and continue to build on the positive work we have achieved."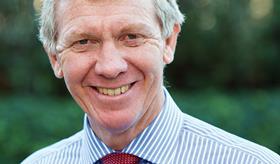 Trust chief Adrian Bull added: "Our financial progress is a direct result of the improvements we have made to the efficiency and effectiveness of the care we provide and the work we do in all parts of the organisation. By providing high quality timely care to our patients, we are becoming more financially sustainable.
"Our system-wide approach to our finance challenges was supported by the joint regulation of the trust and local CCGs established by our regulators. This, and the support given by Sussex and East Surrey STP, has meant that the East Sussex health system is now one of the most financially improved systems in the country."
Anne Eden, regional director of NHS England and Improvement South East, said: "The scale of the financial challenge in East Sussex was significant. Adam Doyle, chief executive officer of the CCGs and Adrian Bull, chief executive of the trust, have shown the difference working together can make.
Mr Doyle was appointed accountable officer of Eastbourne, Hailsham and Seaford, and Hastings and Rother CCGs shortly after they were placed in legal directions.
The HSJ Integrated Care Summit, taking place at the Hilton Deansgate, Manchester from 19-20 September, unites 150+ senior leaders from across the provider, commissioning and local council landscape to determine how to best capitalise on the new funding settlement to rethink service delivery to improve quality and outcomes for your local population.
Held under the Chatham House Rule, attendees will quiz Simon Stevens, Rosie Benneyworth and other national figures on general policy direction, and co-develop solutions to their local challenges with NHS and local government colleagues from across the country. The Summit is free to attend for senior NHS and public sector figures – register your interest here: https://integratedcare.hsj.co.uk/register-2019
Source
Trust and CCG announcements