Jim Mackey and other trust leaders discussing setting up "NHS alternative to PFI"
Northumbria Healthcare chief says projects earmarked as potential test cases
Previous idea of an NHSI bond "did not get very far with the Treasury"
Jim Mackey is in discussions with other providers to establish an "NHS alternative to PFI", which would aim to deliver "off balance sheet" capital projects.
The chief executive of Northumbria Healthcare Foundation Trust believes there is potential for NHS owned special purpose vehicles to be set up by trusts to secure private investment for significant estates projects.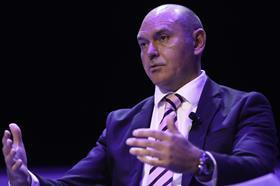 Mr Mackey, who until recently was chief executive of NHS Improvement, told HSJ that "a reasonable number of providers" have been involved in the discussions so far, and specific projects have been earmarked as potential test cases.
There are tight constraints on public capital funding from the Department of Health, while many providers have also been frustrated by the lack of freedom to secure financing from private investors.
The UK's adoption of new accounting rules in 2014 made it more difficult for public private partnership investments such as private finance initiatives to be treated as "off balance sheet". The change meant most projects would impact against capital departmental expenditure limits and count towards government debt.
Projects that involve off balance sheet accounting treatments are likely to be controversial – with previous critics including the Treasury select committee.
Mr Mackey said: "PFIs are all different in their accounting treatment but they are mostly on the books. What we want to do is flush out how CDEL actually works and find ways to allow investment to be treated as off balance sheet.
"There's a massive appetite for investment out there and this would still be using private money, but would be an NHS alternative to PFI, with trust owned special purpose vehicles set up to secure the investment rather than a private company. A trust's charity could potentially be that vehicle as well.
"I think we need to take a couple of live schemes and work them through to see how it would work."
Asked if he had discussed the idea with the Treasury and DH, he said: "I've had a couple of initial chats and they just don't want any impact on CDEL. They get very anxious about that."
Mr Mackey did not wish to disclose which trusts are involved in the discussions, but said one of the projects could involve a significant PFI "buy back".
Mr Mackey said his trust was not currently in need of private investment but he wants to use his experience and that of a small team at the organisation to "try and make that break through". In 2014, the trust bought out its PFI contract with a local authority loan.
He added: "The guys working on it for us won't be doing it pro bono, there would clearly be reimbursement for the trust, but it's not going to be a money making thing."
During his two years at NHSI, Mr Mackey frequently expressed his frustration at the NHS's inability to take advantage of low interest rates by securing private investment for capital projects.
He said a previous proposal for an "NHSI bond" to help release capital funding "did not get very far with the Treasury".
The DH and Treasury were approached for comment.