Ten trusts receive savings estimates of up to 10 per cent of turnover
Negotiations focus on the speed at which savings can be achieved
HFMA warns against top-down approach to imposing savings targets
Ten hospital trusts have so far received their efficiency savings estimates from Lord Carter, as part of his review into NHS productivity, HSJ has learned.
The trusts have been reluctant to reveal the estimates, but HSJ understands they range from 5 to 10 per cent of their turnover.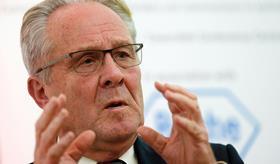 Among those to have received estimates are Central Manchester University Hospitals Foundation Trust; Leeds Teaching Hospitals Trust; University Hospitals Coventry and Warwickshire Trust; Portsmouth Hospitals Trust; and Countess of Chester FT.
Lord Carter and his team at the Department of Health have been working with 32 trusts to identify opportunities for savings for acute providers. He has estimated that £5bn could be saved by 2019-20.
The savings estimates are derived from an "adjusted treatment index", produced by the Carter review team, and Lord Carter has visited trusts to discuss the estimates.
HSJ understands negotiations have focused on the timeframe within which trusts can achieve the annual savings, rather than the savings figures themselves.
There has been scepticism about the figures at some trusts, but others have indicated that they recognise the numbers.
The estimates have been broken down into four areas: workforce management; medicines; estates; and procurement.
The progress of the review has slipped against the initial timeline set out by Jeremy Hunt. The remaining 22 trusts are expected to receive their estimates in the coming weeks, before savings targets are finalised by the end of December.
It is unclear when other acute trust will receive their targets.
It is anticipated that the ATI could be passed over to NHS Improvement and the Care Quality Commission in the spring. Lord Carter's central involvement in the project would end at this point.
In a survey of NHS finance officers, published this week by the Healthcare Financial Management Association, just 1 per cent of respondents felt confident that the Carter review could produce the promised savings.
HFMA policy director Paul Briddock warned: "It is imperative that the review is not implemented in terms of centrally allocating savings targets to trusts until the issues of feasibility and timescales are known.
"A top down approach of imposing savings targets on providers in this way may simply disengage them."