Four new "cross-cutting" programmes to eliminate unwarranted variation announced
Orthopaedic surgeon John Machin to lead litigation work
Seven regional hubs to be set up to implement GIRFT recommendations
NHS litigation costs are to be scrutinised by a national programme to save millions in clinical negligence pay outs and improve patient care, HSJ can reveal.
Orthopaedic surgeon John Machin will lead the work as part of Getting It Right First Time, which aims to tackle unwarranted variation, improve efficiency and drive up standards of care.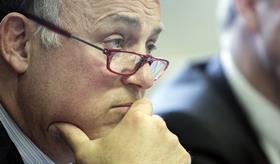 Litigation is one of four new "cross-cutting" areas to be examined by GIRFT, the programme chaired by Professor Tim Briggs, alongside 34 surgical and medical specialties and clinical services.
Procurement, health service management and policy levers, including national policies driving through GIRFT's own recommendations, will also be examined as the £60m project expands over the next three years.
NHS Resolution, formerly the NHS Litigation Authority, predicts the cost of meeting clinical negligence claims will be £1.9bn this financial year, rising to £2.69bn by 2019-20.
At a King's Fund event last month, Professor Briggs pointed out potential financial gains in tackling variation in litigation.
Data for 2011-12 showed the NHS paid £191m on orthopaedic negligence cases. However, additional costs to cover potential future litigation averaged £59.56 per operation although top-up costs at some trusts were as much as £151 per operation.
He said there had been 8,071 obstetric claims worth £5.3bn in the past five years, costing an average of £1,398 per live birth.
However, in the best performing trust, litigation costs were £43 per live birth compared to £6,896 at the worst performing trust.
Professor Briggs said: "There is a massive opportunity in this. That data has never been utilised before to squeeze out unwarranted variation."
HSJ understands the GIRFT team will use national data to identify outliers with high litigation costs to see if they could reduce claims by adopting clinical practices used by those with the lowest.
John Machin, an orthopaedic surgeon, will examine every trust's litigation costs with an initial focus on clinical negligence claims in orthopaedics.
However, his work will be widened to other specialties including obstetrics and gynaecology over the coming months.
Each trust will be given a detailed report showing the national picture and their litigation costs compared to their peers.
The GIRFT team will work with the trusts and clinicians to determine how clinical practice could improve, reducing the potential for future litigation.
Regional hubs
Seven regional hubs will be set up to deliver the recommendations produced by the GIRFT reports. These will be in:
London;
the South East;
South West;
West Midlands;
East Midlands;
the North West; and
the North East and Yorkshire.
A director and "relationship managers" will be based in each hub to work with trusts on the ground.
Around 14 clinical ambassador roles, many involving the same clinicians who produced the recommendations, will be created to provide targeted support.
GIRFT, funded by the Department of Health and supported by NHS Improvement, now covers 15 surgical specialties, 15 medical specialties and four clinical services.
The 15 surgical specialties are:
Orthopaedic surgery.
Spinal surgery.
General surgery.
Vascular surgery.
Urology surgery.
Cranial neurosurgery.
Breast surgery.
Plastic surgery and burns.
Oral and maxillofacial surgery.
Obstetrics and gynaecology.
Ear, Nose and Throat surgery.
Cardiothoracic surgery.
Paediatric surgery.
Ophthalmology surgery.
Trauma surgery.
The 15 medical specialties are:
Acute and general medicine.
Emergency medicine.
Cardiology.
Respiratory.
Geriatric medicine.
Dermatology.
Neurology.
Rheumatology.
Gastroenterology.
Diabetes and endocrinology.
Renal medicine.
Stroke.
Anaesthetic and perioperative medicine.
Hospital dentistry.
Mental health.
The four clinical services are:
Intensive and critical care.
Imaging and radiology.
Outpatients.
Pathology.
Clinical leads are being appointed for each work stream.
Data on additional costs associated with litigation updated on 20 July at 3.05pm after GIRFT team provided more accurate figures.
Source
Information provided to HSJ