A Labour government would "bring" private finance initiative contracts "back in house", the shadow chancellor has announced.
At the Labour party conference today, John McDonnell also proposed that companies based in tax havens would be stopped from holding shares in PFI schemes.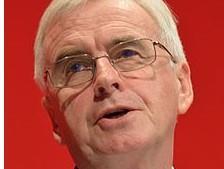 He reiterated that "Labour will sign no new PFI deals" and added: "I can tell you today that when we go into government we'll bring these contracts and staff back in house… We're bringing them back."
Labour has so far given little detail on the proposal. The BBC reported party sources saying it would initially mean reviewing each contract.
The NHS and government have explored ways of reducing the ongoing costs of PFI schemes, which were used to build many hospitals and facilities, particularly in the 2000s, but with little great success.
Over the last year, NHS Improvement chief executive Jim Mackey has championed efforts to combat high ongoing PFI costs, saying some schemes have "absolutely ridiculous" profit margins.
He set up a working group and has suggested some contracts could be bought out by the public sector.
Last November, he said the NHS would be missing an opportunity not to take advantage of the "lowest borrowing levels since the Napoleonic war" to buy out some contracts.
Mr Mackey was involved in a major PFI buy out in 2014, in his substantive role as chief executive of Northumbria Healthcare Foundation Trust. This involved terminating the PFI contract for Hexham General Hospital by borrowing more than £100m from Northumberland County Council.
NHS trusts spend roughly £2bn in unitary payments, effectively mortgage payments, a year.
One PFI expert said there were significant risks to buying out PFIs.
KPMG partner Matthew Custance said: "Buying out all of these PFI projects will involve a massive negotiation effort to settle the compensation – and inevitably involve significant fees to advisers and lawyers, possibly litigation, as well as a huge amount of time from civil servants to orchestrate the buy back. A buy-back would be very expensive.
"However, if it were completely funded from government borrowing, where interest costs are at historically low levels, it is possible that government could end up paying less in debt servicing than it would otherwise pay in unitary charges on the PFIs."
He added: "There are a variety of ways to measure market value but most will involve a debate about the current market value of the project. These projects are trading very well at the moment, so you would expect the value of the equity plus the cost of repaying the debt to be very high – on average much higher than the original construction cost of the project. However, there will be some projects which won't have gone so well and these may be cheaper to terminate."
Potential downsides to a national buy-back include:
Increasing government borrowing to the point where its credit rating worsens and debt becomes more expensive.
Buy-back damages government reputation for privately funded infrastructure, so lenders charge more.
Automatic upgrades and maintenance for former PFI facilities would be lost, with the current level of backlog maintenance suggesting trusts cut costs on maintaining facilities if they can.
This article was updated at 10.30am on 26 September.
The HSJ Strategic Estates Forum is taking place on 20 March at BMA House in London. This is a high-level strategic forum that brings together estates directors, STP estates leads and trust board leaders responsible for the estates function who are developing strategic plans for their organisations and local health economies. The focus of the forum is on issues such as the delivery vehicle for the Naylor Report, the creation of Project Phoenix, advice on establishing SEPs (Strategic Estates Partnerships) and assessing progress of STP estates plans. Sir Robert Naylor, National Adviser, NHS Property and Estates; David Williams, Director General of Finance, Department of Health and Simon Corben, Head of Profession, NHS Improvement are all confirmed as keynote speakers for the event. Register your interest for this free-to-attend event on our website: https://strategicestates.hsj.co.uk/register-your-interest-attending
Labour calls for £500m 'winter bailout fund'
1

2

Currently reading

Updated: Labour would bring PFI contracts 'back into the NHS'