Investigation underway into "a number of issues" at UCLPartners Procurement Service
The organisation bulk purchases on behalf of five London trusts, including Great Ormond Street and the Royal Free
It claims to have "by far the largest non-pay spend of trusts in London"
An investigation has been launched into what is thought to be England's largest provider procurement consortium, HSJ can reveal. 
The trust hosting UCLPartners Procurement Service confirmed yesterday a probe was ongoing into "a number of issues" at the organisation.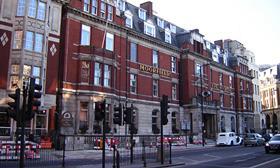 UCLPartners Procurement Service is a not-for-profit consortium that buys in bulk for five north central London trusts, which have a combined turnover of more than £2bn.
Each of those trusts – Great Ormond Street Hospital for Children Foundation Trust, Royal Free London FT, Moorfields Eye Hospital FT, North Middlesex University Hospital Trust and Whittington Health Trust – has a representative on the board of the consortium. The service also has its own director.
The organisation is hosted by Whittington and a spokeswoman for the trust said: "A number of issues concerning [UCLPartners Procurement Service] are currently subject to investigation. Whilst the investigation is underway we are unable to provide further information about specific individuals that may prejudice the outcome."
The trust would not confirm whether any staff employed by UCLPartners Procurement Service had been suspended while the probe took place.
A spokeswoman for Whittington Health said the trust was investigating UCL PPS at the request of the UCL PPS board following an independent audit of the organisation.
The board is currently chaired by Charles Nall from Moorfields, and Whittington chief executive Simon Pleydell will take over the chair's role in 2016.
The news comes as the Carter review into NHS efficiency has signalled a major push to bring down provider costs for equipment and supplies.
UCLPartners Procurement Service was formed in June 2013 and Alan Farnsworth, former director of the shared procurement service for the Royal Free and Whittington, was appointed director. The procurement staff from all five trusts were transferred to it. It takes its name from academic health science centre UCLPartners, which all the trusts in the consortium are members of.
A spokeswoman for UCLPartners said it had no part in the governance of UCLPartners Procurement Service.
She said UCLP's only role was as "a facilitator to catalyse service improvements amongst clusters where partner organisations collaborate, formally take the lead, govern and deliver".
In a press release issued in 2013, Mr Farnsworth said the service had "by far the largest non-pay spend of trusts in London".
The service covers all areas of non-pay spend apart from drugs and is organised into four main categories: medical surgical consumables; corporate services; strategic projects, including IT and pathology; plus capital, maintenance and agency staff.
The 2013 statement said UCLPartners Procurement Service was "at the forefront of current thinking and best practice in procurement for the acute sector with strong ties with the Department of Health, NHS Centre for Procurement Efficiency and the national Clinical Procurement Specialist Network".
Whittington would not confirm many aspects of the governance of UCLPartners Procurement Service, including, when the governing board had last met or when the member trusts were made aware of the investigation.
The service produces no board papers, governance documents or membership information.
Whittington said the current representatives from the consortium's members were: Great Ormond Street deputy director of finance Andy Needham; the Royal Free's director of financial procurement Mike Dixon; Whittington chief financial officer Stephen Bloomer; Moorfields chief financial officer Charles Nall; and North Middlesex's director of finance and information Martin Armstrong.
A spokesman for the NHS Trust Development Authority told HSJ: "We have been alerted to this issue by Whittington Health, however this is subject to investigation and as such we are not able to comment further at this time."