Trust leaders have called for a significant proportion of the £335m winter pressures fund to boost the bottom line of hospitals that have already purchased extra capacity.
Discussions are ongoing around the extra money, announced in last month's budget, which the government expects to help the NHS improve performance against accident and emergency and elective waiting time standards.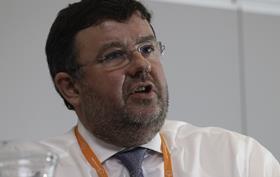 Trusts were told to submit bids for a share of the funding by 1 December and system leaders are expected to finalise allocations by next week. The allocations are being drawn up by the national urgent and emergency care directorate, led by Dame Pauline Philip, who works across NHS Improvement and NHS England.
HSJ understands a majority of the funding, around £200m, could be used to fund extra capacity that some trusts have already been adding in preparation for winter. This would effectively compensate for extra expenditure they have already committed to and which may have resulted in a larger financial deficit.
The remaining money would potentially be spent on new capacity such as social care packages.
System leaders are also mindful the additional funding could result in increased locum rates and the potential for care home providers to push up prices.
NHS Providers, which represents trust leaders, said it is "critical trusts are told as soon as possible how the winter pressures funding will be spent and when it will be allocated", and extra cash should ideally go to areas that have struggled to reduce delayed transfers of care.
Chief executive Chris Hopson said: "It would be ideal if there was a perfect matchup between areas where trusts had not reduced their delayed discharges as much as planned and where there was spare capacity in the social care, community or voluntary sectors. But there is unlikely to be this match, so work will be needed to use the money in an optimal way.
"There are also some areas that added significant extra winter capacity prior to the budget, which will directly lead to a larger deficit or smaller surplus.
"It is appropriate for some of the extra funding to be used for this purpose too, as it is being spent on extra winter capacity, but will have the added benefit of helping trust bottom lines".
The Department of Health did not respond directly when asked if this approach would be supported. It said there would be "further detail on the breakdown in spend in due course".
Julie Wood, chief executive of NHS Clinical Commissioners, said: "We'd hope [the funding] would be spent within the context of the local position and doesn't just follow a top-down view. We would want local commissioners to be involved in the conversations as well."
An NHS Improvement spokeswoman said: "We are aware of the urgencies involved and the need for clarity here. That's why we will be communicating with the NHS about this very shortly."