The devolved nations of the NHS are showing striking contrasts in productivity and performance, with Scotland's policy paths in particular appearing to have led its services into a much less healthy state than England's. Alison Moore reports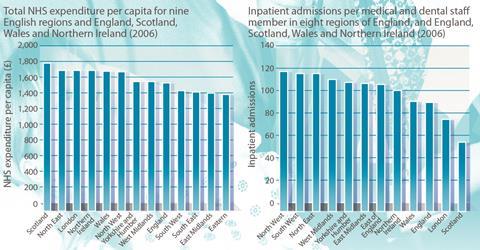 The devolved nations of the NHS are showing striking contrasts in productivity and performance, with Scotland's policy paths in particular appearing to have led its services into a much less healthy state than England's. Alison Moore reports
Devolution has led to an experiment with four different healthcare systems evolving within the UK. The four countries have taken strikingly different policy paths - with England perhaps being the most radical and divergent from the "old NHS" path.
The differences are not just due to devolution - there may also be a cultural component
Scotland and Wales have largely turned their backs on the use of the independent sector, new payment systems and tough targets, while the early days of devolved power in Northern Ireland have not encouraged reform.
But the results of this experiment on NHS outcomes have often been hard to pin down. Now a report from the Nuffield Trust, Funding and Performance of Healthcare Systems in the Four Countries of the UK before and after Devolution, raises troubling questions for the devolved nations. In most performance areas where data can be compared, England is doing better than the other nations and Scotland, in particular, is trailing.
England's health service has higher levels of activity and productivity and lower waiting times, although comparisons with Scotland on waiting times are difficult because of the lack of data. It has done all of this with considerably less money per patient than the other nations, although all have of course seen increases in funding in the last decade. It is also the only nation to have backed up targets for waiting time and other indicators with public reporting, ratings systems and tough performance management, designed to penalise failure and reward success. Extra investment in England has also been partly dependent on performance, through the Treasury's public service agreements.
The report suggests "the devolved countries are spending more on their health services than England but doing worse". But many people would go further and say the report demonstrates hard targets and harder performance management deliver the goods.
Effect of targets
Nuffield Trust director Jennifer Dixon says: "If I was in the devolved nations I would be looking at this report very critically."
She suggests the more stringent approach to achieving targets in England may have helped to put it in a more productive position. And things may have moved on further: the latest data in the report is from 2006 - before competition was so important in the English NHS and probably with little effect from the move to payment by results, which may have focused attention on productivity.
The study also raises questions about accountability for the money spent in the devolved nations and the fairness of current funding arrangements. This funding is raised UK-wide but only the NHS in England is held to account by Parliament and the Treasury.
For the first time, the researchers were able to compare the devolved nations and the individual English regions. Past comparisons with England as a whole have been criticised as being distorted by London, which has a relatively young healthy population but high labour costs and a concentration of teaching and research hospitals.
When London was excluded, the analysis showed that Scotland was an outlier in almost all areas that could be compared - meaning it did worse than anywhere else on almost every measure examined.
When Scotland was compared with the North East, which has similar income, deprivation and unemployment levels, as well as health status and life expectancy, some stark differences emerged.
"Expenditure in Scotland [in 2006] would have been about £180m per 100,000 population and expenditure in the North East £170m," the report says.
"Yet Scotland's 6 per cent additional funding resulted in it having 14 per cent more hospital doctors and GPs, nearly 50 per cent more nurses, and nearly 75 per cent more managers and support staff.
"Despite its lower level of expenditure and staffing, the North East delivered 18 per cent more outpatient attendances, almost 40 per cent more day cases and more than 50 per cent more inpatient admissions, and consequently its staff had far higher levels of crude productivity," the report concludes.
Put brutally, a hospital doctor in Scotland in 2006 would have seen 357 outpatients, 30 day cases and 43 inpatients. Their counterpart in the North East would have seen 584 outpatients, 58 day cases and 115 inpatients.
Scotland's relative performance also seems to have declined since power was devolved to the Scottish Parliament: it has gone from having the highest rates of outpatient appointments and inpatient admissions per head in 1996 to having the lowest in 2006 (see graphs, above). In both years, it had the lowest rates of outpatient appointments and inpatient admissions per medical, dental and nurse staff member.
Scotland has long argued that the relatively poor health of its population justified extra spending: but its greater need does not seem to have led to higher rates of hospital treatment - at least not by 2006.
And despite the argument that targets lead to more managers, England had the lowest per capita rates of management and support staff in both 1996 and 2006, with Northern Ireland having 70 per cent more than England in 1996 and a whopping 170 per cent more in 2006, although this may include some staff managing social services.
But are these fair comparisons? The authors point out the problems with getting comparable data from all four countries (and argue that this should be collected) and accept they are only looking at elements of the NHS where that data is available. This means some dimensions of care may have been excluded - such as patient experience or quality related data - but they point out that where other researchers have tried to look at these other dimensions of care, they have not found significant differences between the countries. It may be that the apparent low productivity of Scottish health professionals is explained by fantastic outcomes and a greatly enhanced patient experience, but it seems unlikely and there is little evidence to suggest this.
Cultural component
Dr Dixon suggests that the differences are not just due to devolution - there may also be a cultural component. Scotland has a much more collegiate approach to NHS policy while England has a fiercer approach.
But she says it is not policy aims that differ but the tools used to achieve them. England has used different tools - such as performance management - to drive towards the shared aims. But these may not be appropriate for all of the challenges the NHS faces. "Command and control and robust targets may only have an effect on a limited numbers of areas," she says. "It does not encourage creativity and risk taking. It cannot be the only recipe for the future."
Many of the challenges of the future - such as keeping people healthy and limiting hospital use - will need intelligent design with clinician engagement and may not respond to traditional performance management techniques.
What lies ahead for the devolved health services as growth is severely restricted? Dr Dixon says it is arguable which nation will be in the best position to cope with this: England may have the tools and experience of achieving productivity improvements
but it will have made the easy wins. Other nations may still have fat to cut but do not have the tools to hand. They may be used to a more "comfy" environment. It is arguable whether the years of growth in budgets have helped or hindered the drive towards productivity, in particular.
The authors conclude: "The government in England used the years of feast to reduce long waiting times and governments in the other countries may find it hard to catch up with performance in England during the years of famine."
If that is the case, devolution may look like an opportunity missed. The debate about the effectiveness of targets and performance management, however, is likely to continue.
Four nations: was England's approach to the NHS on target after all?
1

2

3

Currently reading

Four countries' pulses beat to different tunes