The NHS lacks whole-scale provision for care of elderly people, says Dame Julie Moore, chair of HSJ's Commission on Hospital Care for Frail Older People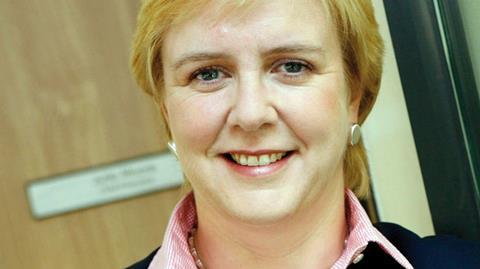 Earlier this year, former national clinical director for older people David Oliver told HSJ: "It is absolute 'La-la-land' to think we're going to be in a situation any time soon where older people don't keep piling through the doors of general hospitals."
'Where's the whole-scale provision of care for frail and vulnerable elderly people closer to or in their own homes?'
My fellow commissioner continued: "Hospitals are daily on black alert, opening any flat surface they can to put beds in, turning ambulances away. There's not a load of convincing evidence yet of anywhere where focusing on prevention has actually led to reducing overall costs in the health and social care economy."
His quote captures exactly why hospital care of the frail elderly is such a big issue.
We all know we have an increasingly elderly population, and as yet, we have not developed sufficient and appropriate care in community settings and older people's homes to provide the kind of care we would all wish for when we are older.
We have known about this coming challenge for a long time and have talked about providing better care, closer to home and out of acute settings. As yet, there has been no real progress made at the scale needed. To deliver such new services will take time, and in the interim frail older people will still be coming to acute hospitals.
Last year, the evidence showed one million more people were treated in A&E compared with three years ago. We haven't geared up for this challenge and we urgently need to do so.
As an acute trust chief executive, I have a limited role in the community care provision for frail elderly people. So at University Hospitals Birmingham Foundation Trust we do what we can – which is treat those who turn up to A&E and try to ensure that the care we provide is as appropriate as it can be for this group of patients.
Being practical
As we look ahead and see that in the short term the numbers of elderly people attending acute hospitals will not reduce (and will probably increase), then we all need to learn together ways we can improve the care we provide for our frail elderly.
This is why I have agreed to chair this commission. Its main aim is to be practically useful. We will focus on how to ensure modern clinical practice can most appropriately meet older people's needs.
'The commission may receive information to improve the lives of patients that we have not even thought of yet'
At this stage I am thinking about education and training; about environment and social interactions – but the commission may receive information about things to improve the lives of these patients that we have not even thought of yet.
The year before last, here in Birmingham, we had severe delays for patients waiting for nursing and residential home placement. We opened a couple of additional wards for these patients, and while we undertook intensive rehabilitation on these wards, we tried to ensure that both the environment and activities were as age-appropriate as possible in a modern clinical setting.
One of the most striking lessons from this was that all patients on those wards had been assessed as requiring long-term care from social services, but at the end of their stay in these wards, 40 per cent improved so much they went back to their own home with some community support. They would otherwise have gone into some form of long-term care. This showed that we can do far more in providing rehabilitation to help older people to get back to their own homes.
But we really do need to get on with delivering changes across the health and social care system to give us the best chance of providing comprehensive services for older people which prevent ill health and maintain independence, as well as provide excellent acute care.
Intelligence deficit
I was struck in talking to a police inspector who told me of the frustration for police officers in coming across a frail older person in their own home who needed a minor intervention from health or social care (for example, visiting someone for a suspected burglary and finding a badly torn stair carpet). They knew this was a significant hazard and likely to lead to a fall, but the process they had to follow was a routine paper referral to social services, and they received no feedback as to what happened. It seemed crazy that as a nation we would pay thousands for a new hip, and not a couple of hundred for a new carpet.
We need far more intelligence about what's going on across the system to prevent things going wrong. We pool intelligence with other agencies over children at risk of abuse, so why not with frail or vulnerable older people? A little bit of prevention could save a lot of pain, grief, inconvenience and cost later. The health secretary was right when he talked about us all needing to be better neighbours.
But we as organisations need to be better at working across boundaries. I believe integrated care is the best way to deliver these new models of care. People often say wecannot have integrated care because acute hospitals would suck up all the money. International evidence shows that this is not the case and in fact, significant shifts from hospital to community have been achieved in the US and elsewhere, when managed as one organisation.
As we work together to deliver this new vision of integrated care, acute hospitals will continue to care for frail older people. We need to bring together the best international evidence on how to provide excellent age-appropriate care to give our older patients the best chance of rehabilitation, independence and the best quality of life possible. This is the work the commission will be undertaking.
Dame Julie Moore is chief executive of University Hospital Birmingham Foundation Trust