Proposal to centralise acute stroke services at Coventry and Warwickshire University Hospital
George Eliot and South Warwickshire trusts would lose acute beds but gain rehabilitations beds
First reconfiguration proposal by STP that is also looking at changes to maternity, paediatrics and A&E services
Strokes services in Coventry and Warwickshire could be centralised under a plan that will see two hospitals lose all their acute stroke beds.
Under the local clinical commissioning groups' plan for improving stroke care across Coventry and Warwickshire, George Eliot Hospital Trust and Warwick Hospital, run by South Warwickshire Foundation Trust, will lose all their acute stroke beds. The service would be centralised at University Hospital in Walsgrave, run by University Hospitals Coventry and Warwickshire Trust.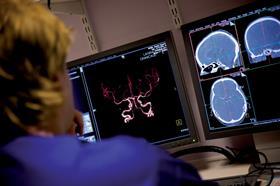 George Eliot Hospital and Leamington Spa Hospital, also run by South Warwickshire FT, would run an expanded stroke rehabilitation service, while University Hospital would lose its six rehabilitation beds.
Overall, there would still be 82 stroke beds across the region, but this would include more hyper-acute beds – all at University Hospital – fewer acute beds and more rehabilitation beds.
The region's three CCGs – Coventry and Rugby, South Warwickshire and Warwickshire North – are seeking public feedback on the proposals until 16 July.
"The ideas we are thinking about for the future of stroke services aim to ensure that those recovering from a stroke can move from 'acute' care into the community as quickly as possible," the consultation document said.
South Warwickshire FT chief executive Glen Burley said the trust supported moving all acute stroke beds to a single specialist centre and funding additional rehabilitation services.
George Eliot medical director Gordon Wood said the trust "fully supported the principles outlined" and "would encourage local people to have their say".
The document is the first major proposed service reconfiguration under the Coventry and Warwickshire sustainability and transformation plan, though moves to improve stroke services predate the STP.
The STP also outlines intentions to reconfigure a range of services including maternity, paediatrics and emergency care. This has led to public concerns that services smaller sites, such as George Eliot, could be downgraded or closed.
STP lead Andy Hardy, who is also chief executive of UHCW, has previously said no plans had been developed to reduce or downgrade hospital services.
In the stroke services consultation document that went out for feedback, the CCGs said "current services in the region do not meet the national best practice guidance".
While the region's stroke services were providing a good standard or care, some patients were spending too long in hospital beds when they would be more appropriately placed in community beds or at home.
Doubling the number of hyper-acute stroke beds at University Hospital would help provide better care for patients in the first 72 hours after a stroke, the document said.
There would also be a greater focus and investment in early intervention, specifically identifying atrial transient ischaemic attack. This could help save as many as 97 lives a year, the document said.
However, some patients and families already consulted on the proposals were "very concerned" they would have to travel further for acute stroke care.
There were also concerns that the changes could have a knock-on effect on the viability of other services at George Eliot and Warwick hospitals.
The CCGs said they would consider extra transport if needed and "have been conscious of ensuring that proposed changes to the stroke service do not impact negatively on other services".
Source
Consultation document, board papers, information provided to HSJ