Stevens says there will be an announcement in July on a "re set" of NHS funding
Final, compulsory, control totals will also be published next month
NHS England chief executive warns it would not be prudent to assume any extra NHS funding in the "next several years"
The government is planning a major intervention next month to call on NHS organisations to improve their finances, Simon Stevens has told the NHS Confederation annual conference.
The NHS England chief executive said there would be what he referred to as a "re-set on the money" for the NHS in July.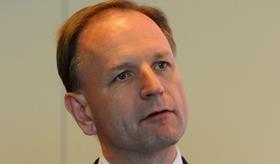 He added: "It certainly is going to be about a re-set on money, and the performance that goes with that, in 2016-17." He said the Purdah period before the EU referendum constrained what could be said at present, "but I'm sending as clear a Bat signal as I can that this [increased pressure on finances] is going to be heading all our ways sooner rather than later".
"The earlier in the financial year that we adjust our plans to deal with our run rates so that we don't get out of whack and then end up doing panic measures come the autumn, the better for everybody," he said.
Mr Stevens told HSJ following the speech on Friday morning that final control totals will be published for trusts in mid-July, and that trusts would need to commit to those numbers. They will total a figure that can be covered in the Department of Health group accounts at year-end, he said.
HSJ understands the finalised plan will include no extra central sustainability funding beyond that already set out.
It is thought the "reset" will involve senior government figures impressing the importance of NHS organisations improving their financial positions. It may also entail new national measures aimed at cutting costs, although these are yet to be decided.
It is unclear whether and when it would take place in the case of major government instability following the EU referendum.
Mr Stevens also told the Confederation audience that there was a "strong argument" that ministers should prioritise allocating any additional funding available to social care services rather than the NHS.
He said: "I do not believe it would be prudent for us to assume any additional NHS funding over the next several years, not least because I think there is a strong argument that, if there were extra funding to be available, frankly, we should be arguing that it should be going to social care."
Mr Stevens was also stressed that he accepted how "bloody tough" the coming years would be given the funding situation.
Stevens: Give any extra funding to social care over NHS
1

2

Currently reading

Government planning major intervention in NHS finances

3