Two London teaching hospitals have said they will return donations from a charity event at the centre of a sexism row.
Great Ormond Street Hospital for Children Foundation Trust and Guy's and St Thomas' FT, which runs the Evelina Children's Hospital, were named in a Financial Times exposé today of a Presidents Club event where it was alleged "hostesses were subjected to groping, lewd comments and repeated requests to join diners in bedrooms" at the hotel where it was held.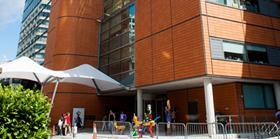 The report said the money raised at the charity auction and dinner included "a successful £400,000 bid to name a new high dependency unit at the Evelina".
A spokeswoman for GSTT told HSJ: "We are very alarmed by the allegations about the behaviour of some of those attending the Presidents Club fundraising dinner. This is not the kind of event we would wish to be associated with and we will therefore be declining funding from it and returning all previous donations from the Presidents Club."
The Financial Times report said: "The gathering's official purpose is to raise money for worthy causes such as Great Ormond Street Hospital."
A spokeswoman for the GOSH Children's Charity said: "We are shocked to hear of the behaviour reported at the Presidents Club Charitable Trust fundraising dinner. We would never knowingly accept donations raised in this way.
"We have had no involvement in the organisation of this event, nor attended, and we were never due to receive any money from it.
"All monies raised in our name go to support vital work. However, due to the wholly unacceptable nature of the event, we are returning previous donations and will no longer accept gifts from the Presidents Club Charitable Trust."
Great Ormond Street has not confirmed how much it is returning.
A spokeswoman for Guy's and St Thomas' said: "In addition to the £400,000 pledged at the recent fundraising event, we have previously received donations totalling around £265,000 via four donations given in 1998, 2013, 2016 and 2017."
Naming rights for new buildings or facilities are a significant source of income for specialist trusts. For example, last year the charitable arm of the Royal Marsden FT was looking for £15m to name its new research and treatment centre.
Source
Statements provided to HSJ; Financial Times
Source date
24 January 2018