WORKFORCE: Amanda Pritchard has been appointed to the top job at Guy's and St Thomas' Foundation Trust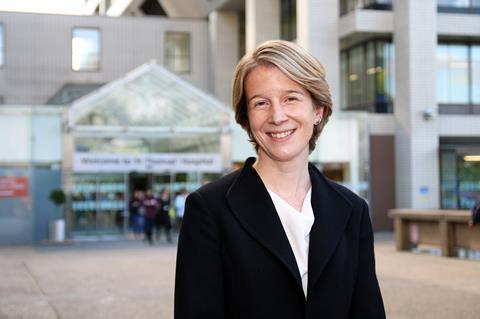 Amanda Pritchard: 'We must focus on the future... the challenges we face are significant'
Ms Pritchard has been chief operating officer at the £1bn turnover trust since 2012 and acting chief executive since October 2015.
She replaces Sir Ron Kerr, who has led the organisation for eight years, as full-time chief executive.
Before moving to the south London teaching hospital Ms Pritchard was deputy chief executive of Chelsea and Westminster Hospital FT.
Trust chair Sir Hugh Taylor said: "I am delighted to announce that Amanda has accepted the position of chief executive. This follows a very thorough search and consideration of a strong field of potential candidates.
"I am confident that Amanda will bring the talent, energy and vision needed to ensure that our already very successful organisation is able to respond effectively to the significant challenges facing the NHS and public sector at this time.
Ms Pritchard said: "While Guy's and St Thomas' has a long and proud history, we must focus on the future. The challenges we face are significant, but so too are the opportunities, particularly if we embrace new technology and scientific advances.
"We need to deliver the best possible care to our patients right now, whilst also working hard to deliver the transformation needed to sustain our services and to take full advantage of the opportunities that are on the horizon if we grasp them. This will require strong partnership working with our colleagues in King's Health Partners, across south London and beyond."
Eleven candidates were considered and Ms Pritchard was one of two short-listed.
In common with other large teaching hospitals, Guy's and St Thomas' faces problems with finance and waiting times performance for specialist services.