University Hospitals Birmingham FT and Heart of England FT to merge on 1 April
Takeover creates £1.6bn turnover trust
Comes after months of negotiations with NHS Improvement
One of the biggest hospital trusts in the country will form on Sunday following a deal being reached after months of wrangling with NHS Improvement.
University Hospitals Birmingham Foundation Trust will take over Heart of England FT to form a new organisation with a turnover of £1.6bn and 2,700 beds across four main hospitals.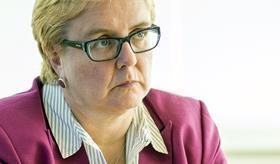 The new entity, which will retain UHB's name, will run most general acute services across Birmingham and Solihull.
The decision was reached on Monday in extraordinary joint meeting of the trusts' two boards, with NHSI's final approval expected this week.
The merger, first proposed in September 2016, has been delayed at the final hurdle for several months as the UHB leadership and the regulator struggled to reached an agreement on central financial support.
In an interview with HSJ, Dame Julie Moore, chief executive of both trusts, said she had tried to gain "Frimley Park type" financial support for the acquisition but trust had decided to proceed without that support.
Frimley Health FT received a £328m support package for its takeover of Wexham Park Hospitals FT in 2014.
Dame Julie said: "We would rather be a super tanker than a canoe. [The merger] gives us more stability when things get rocky."
However, she also said the trust would seek additional central capital in future to fix or replace HEFT's estate – a request she said NHSI had indicated it would support.
A UHB survey of HEFT's estate concluded an almost complete overhaul was required in the next 15 years, particularity at Heartlands Hospital, which would cost around £1bn.
The deal was also delayed while the trusts waited for the terms of reference of the Ian Paterson inquiry. Mr Paterson was a surgeon at HEFT who was convicted last year of 17 counts of wounding with intent and three counts of unlawful wounding.
The trusts' chair, Jacqui Smith, said: "The final approval to combine the two trusts is the result of a huge amount of preparation and planning to ensure the new organisation can provide the best possible healthcare to the population we serve."
The UHB leadership assumed management of HEFT in October 2015, following a history of persistent governance and financial difficulties at HEFT.
After clearing the acquisition in August, the Competitions and Markets Authority said UHB's leadership had led to quality and governance improvements at HEFT.
The need to retain and expand on those improvements outweighed any concerns about a reduction in patient choice, the CMA said.
However, while there have been improvements at HEFT, the trust has continued to struggle financially.
Last month, it revised its year-end forecast for 2017-18 downwards by £17.1m to a deficit £45.9m, excluding sustainability and transformation funding.
UHB was expected to meet its agreed budget deficit of £3.9m, excluding STF, for 2017-18.
While UHB will likely receive substantial STF for 2017-18, without additional financial support associated with the merger the new trust will go into the next financial year with a significant deficit.
Dame Julie said the trust would have deficit of roughly 2 per cent of turnover before any central financial support.
Savings would be achieved by combining back office functions, such as payroll and procurement, and cutting HEFT's large agency spend.
In the past, HEFT has struggled to attract specialist staff but UHB positions, with some shifts at HEFT hospitals, were already proving popular, Dame Julie said.
There would be no major reconfiguration of services but some subspecialist services, such liver medicine, might be spread more evenly between the hospitals to be closer to patients.
"We are not lessening the service but we might change where we provide them," Dame Julie added.
2.51pm: We have removed several comments and turned off comments for this story. If you want to raise serious concerns about individuals, feel free to contact us in confidence.
Source
HSJ interview; information provided to HSJ
Trusts and NHS Improvement reach hospital takeover deal
1

Currently reading

Trusts and NHS Improvement reach hospital takeover deal

2