Hinchingbrooke Health Care Trust should remain in special measures, the Care Quality Commission has recommended.
In a report published today, the regulator said that while a number of improvements had been made at the Cambridgeshire trust, more work needs to be done.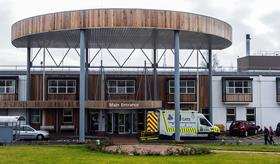 In January 2015, Hinchingbrooke was placed in special measures after being rated "inadequate" by the CQC. Private company Circle ran the hospital at the time, but then cut short its contract and Hinchingbrooke has since returned to NHS management.
The "inadequate" rating was based on an inspection of the trust which took place in September 2014. However, a follow-up inspection carried out a week before the publication of the original, highly critical report resulted in the trust's rating being upgraded to "requires improvement" in April.
The latest report, which is based on an inspection in October and November 2015, re-confirms Hinchingbrooke's overall rating as "requires improvement".
However its caring rating has been upgraded to "good", and its well led rating has been upgraded from "inadequate" to "requires improvement".
According to the CQC Hinchingbrooke is in a "transition period following structural management changes", with new systems and processes in place but "yet to be embedded".
While dementia care on the hospital's Apple Tree ward was praised as "outstanding", the CQC said accident and emergency services had deteriorated from to "inadequate".
The regulator said it had concerns with infection control, safety of patients with mental health issues and risks to potentially deteriorating patients in the department.
Professor Sir Mike Richards, the CQC's chief inspector of hospitals, said: "Our return to Hinchingbrooke Health Care Trust showed a number of improvements had been made but that further work was needed.
"This is reflected in the trust being rated as 'requires improvement' and I have made a recommendation to the NHS Trust Development Authority that the trust remains in special measures."
Mark Cubbon, portfolio director at the TDA said: "The trust board will continue to receive enhanced support from the TDA and system partners as new governance systems and processes are embedded over the coming months to drive further improvements.
"A dedicated improvement director remains in place to accelerate board development and to ensure that recent improvements are sustainable."
Hinchingbrooke chief executive Lance McCarthy said: "This is a material improvement from September 2014 when we were rated inadequate [for caring]. The new rating is a credit to the hard work and commitment of staff."
Ben Gummer, minister for care quality, said: "It is encouraging that progress have been made in the leadership and working culture across [Hinchingbrooke] and that staff have been recognised for their high level of compassionate care. However, I am disappointed that concerns remain on aspects of patient safety.
"It is now vital the trust works closely with regulators to put in place the necessary improvements."
Source date
29 January 2016