The way that sustainability funding has been distributed risks creating huge imbalances where some NHS trusts become "cash rich" and others are "drowning in debt", experts have warned.
Analysis by HSJ has revealed the big winners and losers from the £1.8bn "sustainability and transformation fund" in 2016-17. The fund was put in place as part of arrangements agreed between the Treasury at the end of 2015.
Some organisations have received large payments over and above their original allocations, due to exceeding their financial targets, and have been able to earmark the extra funding for capital projects.
Others have missed out on the funding altogether, and will have to draw down additional interest-bearing loans from the Department of Health to keep up payments to staff and suppliers.
The graphs below shows the impact of the STF on trust finances in 2016-17, bringing many more trusts into surplus, but also widening the gap with those trusts that missed their targets.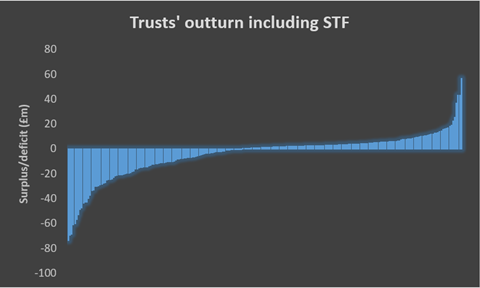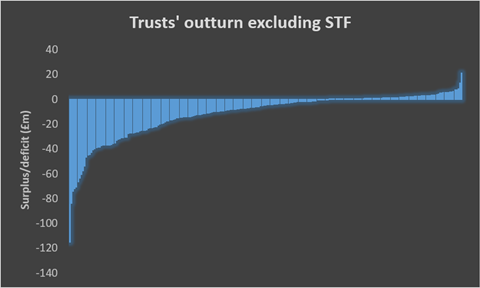 Just over half trusts were in balance or surplus at the end of the year with STF; if STF is excluded, a third were in balance or surplus.
Sally Gainsbury, senior policy analyst at the Nuffield Trust, said: "It is understandable that NHS Improvement and the Treasury, who ultimately controlled the STF last financial year, did not want to distribute the extra funds on the basis of greatest financial need.
"The worry was that doing so would be seen as 'rewarding failure'. But the cliff edge nature of the distribution system - which meant missing a control total by just a few thousand meant missing out on several million in STF payments, and the reverse for those who exceeded their totals by similarly small amounts - risks creating a hugely disparate hospital landscape where some are becoming cash rich - thanks to extra STF payments - and others are drowning in debt.
"What this means in practice is that the cash rich trusts will be able to invest in improving their services while the others will fall further behind in terms of what they can offer their patients.
"Perhaps in places, cash rich trusts will take over services ran by neighbouring indebted trusts. But if that is the deliberate intention, we need more transparency about this, and explicit planning for it."
She said in many cases trusts were able to improve their finances via one-off land sales or accounting treatments, and it would be wrong to distribute hospital services "on the basis of what, in many cases, boils down to financial good or bad luck".
HSJ has looked for trends in the STF payments made to acute providers.
The first graph below measures the amount of STF received by acute trusts compared to their original allocation, against their financial outturn in 2015-16. It suggests a correlation between those with healthier overall finances and those receiving additional payments.
A healthier overall financial position should not necessarily mean that a trust receives extra STF, because the payments were aimed to incentivise trusts to improve their position, which in some cases would still result in a large deficit.
For example, Doncaster and Bassetlaw Hospitals Foundation Trust received a large amount of extra funding, despite reporting a deficit of around £20m, while Oxford University Hospitals FT fell significantly short of its STF allocation, despite reporting a surplus of £4m.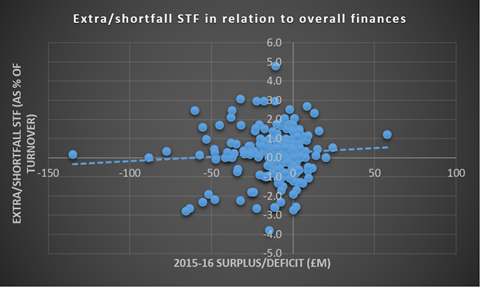 The below graph looks at STF payments in relation to acute trusts' ratings from the Care Quality Commission, and suggests that organisations with quality problems have received smaller shares of STF.
The numbers of trusts with "outstanding" and "inadequate" ratings are very small, so it is more appropriate to compare the "good" and "requires improvement" columns.
The STF was designed to incentivise financial improvement within the year, so should not necessarily have favoured trusts with better quality. However, if a trust invested heavily in staffing following a poor inspection report, this would potentially make it more difficult to meet its financial target for the year.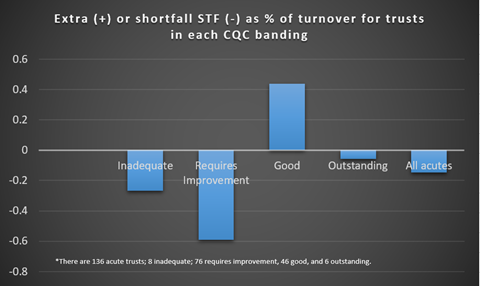 The graph below looks at STF payments in comparison to trust size, and appears to show no correlation.