Department of Health has committed to ensuring patients can access free wi-fi throughout the NHS
But contractual issues related to Hospedia bedside entertainment systems have prevented free wi-fi for some patients
Company says its charges are essential to recoup investment costs
The government's plan to roll out free wi-fi in all hospitals could be complicated by existing contracts with providers of paid-for services.
The Department of Health has committed to ensuring patients can access free internet services throughout the NHS, following a review by Baroness Lane-Fox.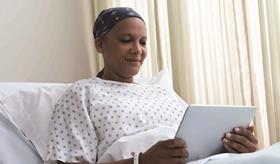 However, HSJ is aware of a contractual issue related to bedside entertainment systems, which has prevented some hospitals from introducing free wi-fi.
Last year, East Lancashire Hospitals Trust launched a free service at the Royal Blackburn Hospital, but it was blocked for inpatients due to an exclusivity deal with Hospedia.
The company has invested in bedside screens in dozens of hospitals, which offer paid-for internet and other services such as television and films.
HSJ has spoken to four more trusts that have experienced similar problems with their Hospedia contracts.
One estates director said: "I'm not sure the contracts have always been fully enforced, but Hospedia have realised they're now losing revenue from people streaming things on their phones and laptops.
"I wouldn't be surprised if they start being more rigorous with the contracts to protect their investment."
He said some hospitals have been able to open their existing wi-fi services to patients at little or no cost, but have then encountered the contractual problems.
Last year, Hospedia began offering free wi-fi services where funding was made available, such as at Salisbury District Hospital where it has been paid for by the hospital's charity appeal.
A Hospedia spokesman said: "For hospitals that already benefit from our bedside terminals, and wish to also offer wi-fi, we are best placed to manage any potential conflict between the provision of Hospedia core services and wi-fi."
He said the capital investment, maintenance and operational costs for the bedside entertainment systems are "borne solely by Hospedia", and charges for some services are essential to recoup the initial investment costs and ensure their provision.
He added: "As such, there are agreements in place between Hospedia and the hospitals with these systems, to govern these investments and ensure they are not unnecessarily compromised by other services that could impact the model for payback and operational costs."
The company offers the "most advanced hospital wi-fi on the market", he said. Internet charges on the bedside systems start at £5, although this is part of a bundle that includes other services such as films.
A DH spokesman said NHS England will be reviewing the barriers to free wi-fi, and identify the best options for implementation.