Data is crucial to targeting health inequalities but its existence is not a solution in and of itself, a recent HSJ webinar heard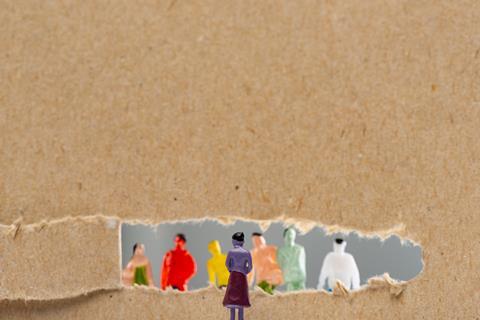 When Martin McShane trained as a doctor, he learned that his profession focused on three key areas: namely "conditions, organs and organisations".
In association with

This way of looking at problems was one he experienced as prevalent through many years as a surgeon and a GP, and into local and national NHS management. Increasingly, however, he has come to believe this mindset – one that has widely characterised healthcare provision – is inadequate.
"Now I use data to look at the complexity and risk of individuals, and I see everything through that lens. And when you do that, you start to see the health inequalities. You start to see the biopsychosocial aspects of what is hitting people. It reframes your perspective."
It was this perspective under consideration at a recent HSJ webinar for which Dr McShane was a panellist. Held in association with Optum – the organisation he joined in 2016 and for which he has been chief medical officer since 2017 – it brought together a small group to consider the issue of health inequalities. The specific question being considered: just how such inequities can be identified and then addressed.
For all panellists, the answer lay in smart use of strong data. Durka Dougall is chief executive of the Centre for Population Health, where she and colleagues are seeking to tackle health inequalities in England; a medical consultant and specialist in public health medicine; and also chair of the Health Creation Alliance. She sees data as "key in terms of understanding population needs, helping to prioritise those needs, to spotting inequalities, and to putting in interventions and measuring the difference".
"Population health is an approach to improving the health and wellbeing of a given population and that includes tackling health inequalities and population health management is the data-driven part of that," she stressed.
Turning data into intelligence
Which is not to say data in and of itself is the solution to identifying inequalities and working out how best to address them. "The essential task is to turn data into intelligence," stressed Rowan Pritchard-Jones, executive medical director of Cheshire and Merseyside Integrated Care System. "The World Health Organization has a short definition: 'Health intelligence is when you have actionable health data'."
In his patch, he said this meant "actively segmenting and understanding areas of our population". This is being achieved through Combined Intelligence for Population Health Action, a local setup which combines data from NHS and social care organisations. It is a complicated picture to understand. The ICS covers nine local authorities; 21 different trusts; and both urban and rural areas, some with high levels of deprivation.
[Data is] key in terms of understanding population needs, helping to prioritise those needs, to spotting inequalities, and to putting in interventions and measuring the difference
In his speciality of plastic reconstructive surgery for cancer patients, Mr Pritchard-Jones said CIPHA has already enabled a very different approach to, for instance, waiting list management.
"We're using data that looks at what we know about patients' comorbidities, finding those at highest risk of things like chest infections and cardiac complications, and pulling them into prehabilitation programmes," he explained.
"And when I look at the background of these patients, there is no surprise that those who live with some of the most challenging comorbidities come from our most deprived backgrounds. Forty per cent of our highest risk patients are from the 20 per cent most deprived communities that we serve."
This approach – identifying the patients most at risk of complications from surgery, and offering interventions that lower that risk prior to performing any operation – has "almost completely eliminated post-op chest infection" in the first patients to which it's been applied. It's also helped those in this group to heal more swiftly following surgery, decreasing lengths of stay.
"It's not only about improving the outcomes of patients, but also making better use of the challenged resources that we have. And that feels like precisely the right thing for us to be doing," said Mr Pritchard-Jones.
The human element
It is a viewpoint shared by Matt Gaunt. Mr Gaunt is director of finance and deputy chief executive of Lincolnshire Integrated Care Board, but also leads its data analysis and population health management work. This has included uniting datasets from local NHS organisations and local authorities and then overlaying the index of multiple deprivation.
"It's enabled clinicians to not only prove what they see day in and day out in their practices, but actually to uncover hidden elements and take action on them," Mr Gaunt explained.
The ICB has a specific strategy of pushing the data to primary care networks and then supporting staff there to design and implement interventions. This has led to the identification of some core areas for action, and likes of pop-up hypertension clinics in local manufacturing workplaces. At one site, 50 per cent of people who visited the clinic were found to have high blood pressure – of that number, half weren't registered with a GP.
"Often when we think about data, the mind goes to metrics and tools and segmentation or stratification," said Dr Durka. "But I think [with data] there is an opportunity to unlock the power of our staff across health and care communities, and to work with communities."
As Dr McShane put it: "Don't underestimate the value that human intelligence brings to population health management. [This approach is] about empowering and enabling people who are predominantly coming to work to do a good job and do the best for the people in front of them."
He concluded: "It's about value-based care, and improving outcomes and experiences for people with the resources we have to hand – better value with what we've got."
An on-demand recording of this webinar is available

To access the recording, visit here and click play.

If you have previously registered for the event, clicking the link will immediately bring you to the recording. Simply press play.
If you have not previously registered, complete the form that appears. You'll then be able to immediately watch the recording.