The questions raised by Monitor's "fair playing field" review are enough to show it is timely, says Tim Winn.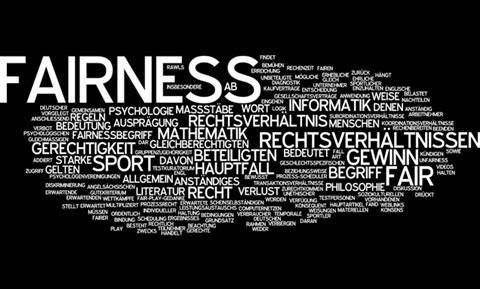 This article was part of the Commissioning Legal Adviser channel, in association with Mills & Reeve. The channel is no longer being updated.
Everyone knows the shaggy dog story about the student who achieved top marks in an Oxbridge entry exam by answering the question "Is this a fair question?" with, "Yes, if this is a fair answer." In this pithy reply, the student had hit upon the essence of the problem: what do we mean by "fair"?
This question arises almost everywhere we look in the new, post-reform NHS. It arises in the context of provision, of course. We can tell that just by looking at the lobbying around Monitor's licence conditions. The fuss around it means the "fair playing field" review is very timely.
What gives rise to the postcode lottery, as we know and love it, is not just that some trusts are better at managing budgets than others
The review, which will be concluded next year, is being undertaken by Monitor for the secretary of state to fulfil an obligation in the Health and Social Care Act to assess whether there are "matters that may be affecting the ability of providers of NHS services to participate fully in providing NHS services".
High profile cases
But fairness also arises in the context of commissioning. In particular the "postcode lottery", where neighbours living on either side of a border between commissioners' areas might find their similar requests for treatment were allowed by one primary care trust but not by the other.
We all know the high profile cases. In 2005, there was Herceptin. Some PCTs would pay for it, others would not − or at least not until the secretary of state visited them to impress upon them how important it was for them to consider all relevant factors "when prescribing Herceptin".
The same questions arose more recently about Lucentis and bariatric surgery. While these are the stories that hit the headlines, the reality is that to a greater or lesser degree this happens all the time.
You could see this as a consequence of the inescapable fact that demand in the NHS exceeds supply. If cash is limited, then at some point choices will need to be made, even among NICE-approved treatments. Commissioners have a legal duty to live within their means, to ensure their expenditure in any year does not exceed their income.
Taking local decisions
However, what gives rise to the postcode lottery, as we know and love it, is not just that some trusts are better at managing their budgets than others. If that was the case then at some point they would all be saying no to the same things. Instead, there is something more fundamental at work, and deliberately so, because the NHS is designed to take decisions locally, through trusts setting local priorities.
New ways of working need to be piloted to make sure they are better, not just newer
This will not change in principle with the advent of clinical commissioning groups. In fact, one would expect the "problem" to increase, because we are replacing 151 primary care trusts, effectively 52 PCT clusters, with 212 CCGs.
Also, isn't this just what the reforms are about? Putting commissioning in the hands of GPs who understand what their local population needs. The alternative (and the only real way to avoid the postcode lottery) is to put commissioning under central control or allow CCGs no autonomy in the "decisions" they make.
Importance of pilot schemes
With that in mind, it is interesting that last week HSJ reported that in 2013/14, "specialised services", which under the new structure are commissioned centrally by the NHS Commissioning Board, would cover 40 per cent more services (by value) than the current regional specialised commissioning structure, returning £3.5bn to central control.
While that might help to reduce national variations, how does that square with, as Andrew Lansley put it in his letter to Sir Malcolm Grant in April, "the principle of decentralisation of decision making and promoting the autonomy of CCGs"?
However, even central control could not eliminate all regional differences. On one level, we want there to be differences, because if everyone does the same thing we will never have progress. New ways of working need to be piloted to make sure they are better, not just newer. Are the patients on those pilot schemes the lucky ones or the unlucky ones? We don't know: that's what pilot schemes are for. Which returns us to the earlier question, what do we mean by "fair"?
Tim Winn is a partner at Mills & Reeve