Social inclusion is vital to recovery in mental health but is overlooked in practice. The SHARP project in south London addressed this shortfall so successfully that it has outgrown its pilot status, writes Anna Croucher
Mental health services increasingly hold individuals' personal recovery as their goal; the challenge is how to support this when existing services are primarily often geared towards medication, risk and crisis management.
Within reduced resources and growing demand for services it is increasingly difficult for clinical staff to integrate recovery oriented interventions into their crisis focused work.
Social inclusion recognises that all people should be a part of, not apart from, our communities; they should be valued members, with access to opportunities to contribute and participate in those communities.
Meaningful social inclusion is integral to an individual's personal recovery; a journey, from surviving to living, that involves finding courage, meaning and purpose, whilst having hope for the future. Both social inclusion and recovery are concepts commonplace within policy regarding mental health, however there is little to guide the practical implementation at a service level.
Mind, body and 'flow'
The Social inclusion, Hope and Recovery Project (SHARP) is a service that was set up with this aim, responding to a feasibility study of local stakeholders (including staff, carers and service users) to develop a service focused around wellbeing, and developing personal practical and coping skills as an alternative to the medical approach.
SHARP was initially a pilot project. However, after two years it was successfully mainstreamed by the South London and Maudsley Foundation Trust (SLaM) and nine years on is integral to service provision for people with psychosis within Lambeth.
Participants described SHARP as feeling safe and welcoming, that it felt safe and helpful "to come here and someone would say "good morning" where in the outside world they kick you
The team of 10 specialist therapy staff, including clinical psychologists and occupational therapists, work together to provide a range of time limited one to one and group interventions, geared towards developing the mind, body and a sense of 'flow'; engaging in meaningful activities that promote wellbeing.
These include: cognitive behavioral therapy for psychosis, family interventions, dual diagnosis therapy, mindfulness, health and wellbeing programmes, physical health activities and a social inclusion intervention.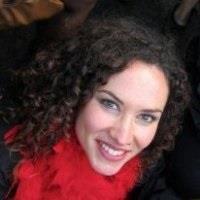 Most service users attending SHARP have a psychosis related diagnosis, with over 50 per cent of people of African and Caribbean or Asian ethnicity.
As well as the range of interventions and recovery focused values, the service is quite unique in how it works as demonstrated in table 1.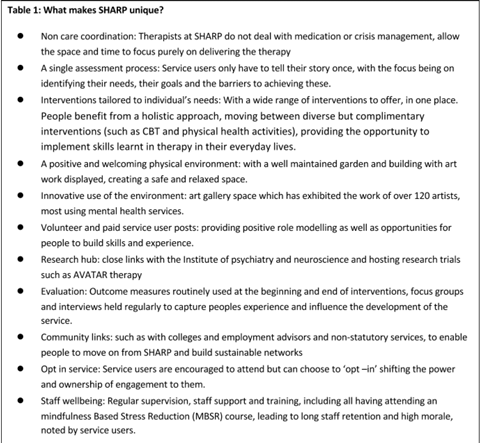 Anecdotal evidence from clients and staff suggest that SHARP does have a unique model of working that delivers a positive impact.
A recent service evaluation, using data from focus groups, interviews and outcome measures, provides a clear indication of the positive impact for service users through working in this collaborative and recovery focused manner.
Telephone interviews (21 participants) and focus group (seven participants) were conducted with service users who had left SHARP within the last 18 months. Analysis of this data highlighted some common themes around the experience of attending SHARP. These are as follows:
Personal Change: service users noticed SHARP had a future focus, compared with other services with a greater focus on the past. SHARP helped people to learn skills, including problem solving and organisation, as well as self-acceptance and taking ownership over their recovery. This enabled them to do more with their time.
Staff attitude: participants felt that the staff at SHARP were "genuinely interested" in them, presenting as relaxed but professional in manner, caring, non-judgemental and empathetic. This helped one participant to feel that "my life is valued like everyone else's". Participants reflected on how they were given support as well as ways to problem solve.
Interventions: participants were satisfied with the range of therapeutic interventions and found it beneficial that they could move easily between them. This avoided long referral processes.


Peer support: the value of connecting with people who had gone through similar experiences was acknowledged and helped people to feel less isolated.


Environment: participants described SHARP as feeling safe and welcoming, that it felt safe and helpful "to come here and someone would say "good morning" where in the outside world they kick you".
SHARP has collected and analysed data from patient recorded outcome measures. These are: the Warwick Edinburgh Mental Wellbeing Scale (2006), measuring wellbeing, the More Effective Community Care Assessment (MECCA), measuring satisfaction in life domains and the Time Budget Scale, recording time use.
All have statistically significant and desirable results when comparing scores when starting and ending with SHARP.
The feedback from the interviews and findings from the outcome measures all indicate a model of working that successfully enables individuals' personal recovery.
Anecdotal evidence from clients and staff suggest that SHARP does have a unique model of working that delivers a positive impact
This has been achieved through the creation of a space away from the reactive and crisis focused nature of many community mental health services, where therapists are able to focus on and deliver therapies.
It is hoped this provides an alternative model of working that successfully achieves its goal of supporting recovery for people using mental health services.
It is inspiring for commissioners, clinicians and service users alike that such a service can flourish within the current climate within the NHS. Working in this manner demands change on both a conceptual and service delivery level.
However, without such change how are mental health services able to support people to recovery and move to a positive life away from them?
Anna Croucher is senior occupational therapist, service development lead and evaluator, SHARP, South London and Maudsley Foundation Trust