Conservative Party win a majority and Jeremy Hunt, Norman Lamb and Andy Burnham re-elected

5.40pm There have been several Cabinet position confirmations this afternoon, although no ministers have been re-shuffled.
There will be no announcement on the Health Secretary position until Monday.
4.10pm Vice News has spoken to NHS staff about the result of the general election.
3.50pm In our sister title, Local Government Chronicle, editor Nick Golding argues that the "stunning nature" of David Cameron's triumph cannot mask the fact his party has a "wafer-thin majority".
This could be undermined when the question of an EU referendum rears its head.
3.30pm Liberal Democrat Andrew George MP, a member of the health select committee, has lost his parliamentary seat. His constituency of St Ives voted in favour of the Conservatives. He is the only member of the committee to lost his seat.
3.25pm The Health Foundation has called for the new government to commit to the Five Year Forward View.
Jennifer Dixon, chief executive at the Health Foundation, said: "As an independent charity, we look forward to working with the newly-formed government over the coming parliament to help improve health and health care.
"We need the new government to commit to the manifesto set out by the NHS England last October – the Five Year Forward View. The government should back the funding pledges of an additional £8bn by 2020-21 as a minimum and cover immediate shortfalls in funding for 2015-16. The Secretary of State should work to three main objectives for the NHS- maintain or improve quality, transform care for the future and achieve financial balance.
"Better quality care often results in lower cost, but quality of care should win out if trade-offs are to be made. The challenges facing the NHS are complex and there are no easy answers – finding the best path forward for the British population will need the government to work constructively with frontline staff and managers, rather than adversarially, and to commit to no administrative reorganisation."
3.20pm With the Conservative Party confounding polls and expectations to win a majority in the Commons, many will already be working to revise their expectations of what the next five years might hold for the health service.
The new government is only hours old, and David Cameron is yet to name his health secretary. But with that caveat, here are HSJ's five observations on what the election result will mean for the NHS.
2.00pm The new health secretary faces an uphill battle, argues NHS Providers' chief executive Chris Hopson.
He has set out five priorities that must be tackled straight away.
12.30pm The chief executive of Northampton General Hospital Trust has written an open letter to David Cameron.
Sonia Swart writes: "I need to tell you that staff in the NHS have never been under so much pressure and demand for services has never been so high. Many senior staff are very demoralised."
She adds the trust needs financial support to help it refurbish its ageing hospital buildings, funding mechanisms that "fully cover" the cost of providing care and less regulation.
12.20pm Waiting times expert, Rob Findlay, has already given the new government some homework to do to bring down the growing waiting lists in hospitals.
12.15pm Ed Miliband has stepped down as leader of the Labour party. He will step down this afternoon with Harriet Harman as acting leader. He said he takes "absolute and total responsibility for the result".
There are rumours on Twitter that shadow health secretary Andy Burnham and Liz Kendall are both favourites to take over the leadership.
12.10pm Incisive Health has come up with a list of ten MPs who have backgrounds in health, including Labour's Karin Smyth who was most recently a manager at Bristol CCG.
11.46am: "The NHS task is best summarised as 'stabilise to transform': the service can't transform to deliver new care models until its performance and finances are stabilised," says NHS Providers chief executive Chris Hopson. He writes on hsj.co.uk about the five crucial tasks facing the health secretary during this parliament.
11.41am: Nick Clegg has resigned as leader of the Liberal Democrats. Norman Lamb, who became care minister in 2012, is one of only eight Lib Dems to have won their seat.
11.34am: Jeremy Hunt told HSJ last year he wanted to be health secretary for five years and he "would be very happy if this is my life's work". We might find out as early as this afternoon whether he is in a new cabinet.
In an interview last month, Mr Hunt said better care fund should be "accelerated and extended" and his party's promise of an extra £8bn for the NHS was not dependent on continued economic growth.
11.29am: Here is a reminder of the Conservatives' high profile health policies and manifesto pledges: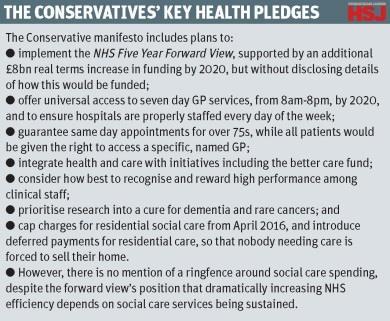 11.09am: The Conservative Party have now won enough seats - 323 - to win a working majority in the House of Commons.
10.20am: Parliamentary and political intelligence service Dods has said it expects a Nick Clegg resignation speech 11.30am, Ed Miliband resignation speech at 12pm, David Cameron's speech at 1pm and a new cabinet to be formed this afternoon.
9.52am: On social media there is much speculation about who could challenge Labour leader Ed Miliband and Liberal Democrat leader Nick Clegg if they step down. Shadow health ministers Andy Burnham (who ran against Mr Miliband for the leadership in 2010) and Liz Kendall are among the favourites for Labour, while Norman Lamb has been linked with the Lib Dem leadership. HSJ comment editor Andy Cowper predicts former health secretary Alan Johnson to be interim Labour leader.
8.50am: Among the smaller parties, the Green Party health spokeswoman Jillian Creasy (Sheffield Central) did not get elected, and neither did the two candidates who represented UKIP in the pre-election health debates, Angus Dalgleish (Sutton and Cheam) and Julia Reid (Chippenham).
8.42am: Some more MPs with links and experience in health who have won or held their seats:
Shadow health minister Luciana Berger (Liverpool Wavertree)
Dr Tania Mathias has beaten former business secretary Vince Cable (Twickenham)
Scottish National Party health spokesman Mike Weir (Angus)
A number of former health ministers and spokespeople have also won their seats, including Anna Soubry, John Healey and Lee Scott. Liberal Democrat former health minister Paul Burstow has lost his seat to the Conservatives.
8.26am: HSJ senior bureau chief Dave West says on Twitter he expects Norman Lamb to remain a strong voice on health and care, despite the Liberal Democrats losing many seats.
8.25am: HSJ editor Alastair McLellan has made some observations about what the election result means for the NHS:
8.15am: The BBC is now forecasting the Conservatives to have a slight majority. If the party does form the next government, here is a reminder of its pledges on the NHS: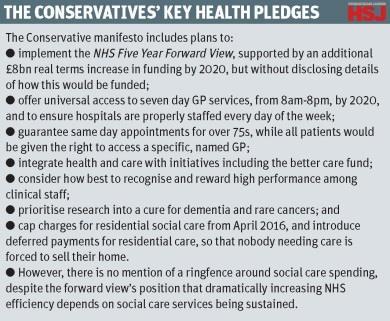 8.03am: Last month HSJ reported on the top 10 potential MPs to watch in health after the election, who were picked out by public affairs firm Hanover. A number of the candidates have NHS management experience. Seven out of the 10 have been elected:
Nusrat Ghani (Wealden)
Kit Malthouse (North West Hampshire)
Lucy Allan (Telford)
Caroline Ansell (Eastbourne)
Karin Smyth (Bristol South)
Julie Cooper (Burnley)
Tulip Siddiq (Hampstead and Kilburn)
The three names on the list who did not get elected were:
Andrew Dismore (Hendon)
former health minister Mike O'Brien (North Warwickshire); and
Tim Brett (Fife North East)
7.52am: In addition to Commons health committee chair Sarah Wollaston being re-elected, nearly all the other committe members have held their seats. Andrew George's constituency, St Ives, is expected to be the last to declare. The other re-elected committee members are:
Rosie Cooper (West Lancashire)
Robert Jenrick (Newark)
Barbara Keeley (Worsley and Eccles South)
Charlotte Leslie (Bristol North West)
Grahame Morris (Easington)
Andrew Percy (Brigg and Goole)
Virendra Sharma (Ealing Southall)
David Tredinnick (Bosworth)
Valerie Vaz (Walsall South)
7.40am: For instant reaction to the election results, you can also follow the HSJteam on Twitter, and catch up with what happened overnight.
7.37am: There were also a number of local and mayoral elections yesterday. Follow the live blog by HSJ's sister title Local Government Chroniclefor the latest results from aroudn the country.
7.33am: Whoever is the health secretary in the next government, they face huge challenges for the next five years. HSJ editor Alastair McLellan and NHS Providers chief executive Chris Hopson outline what they are.
7.13am: In March, Norman Lamb had told HSJ he "would love" to continue as a health minister in the next parliament, saying he was "on a mission, particularly on mental health".
7.07am: In what has been a torrid election for the Liberal Democrats, care minister Norman Lamb is one of the just seven Lib Dems to win a seat so far. The other key health figures who have held their seats are;
Health secretary Jeremy Hunt (South West Surrey)
Junior health minister Jane Ellison (Battersea)
Health minister Dan Poulter (Central Suffolk and Ipswich)
Life sciences minister George Freeman (Mid Norfolk)
Commons health committee chair Sarah Wollaston (Totnes)
Care minister Norman Lamb (North Norfolk)
Shadow health secretary Andy Burnham (Leigh)
Shadow health minister Liz Kendall (Leicester West)
6.53am: Jeremy Hunt has been re-elected as MP for South West Surrey. Last year he told HSJ he wants to be health secretary until 2017.
6.40am: In terms of what the election result could mean for health policy, here is:
6.35am Good morning and welcome to HSJ Live the morning after the 2015 general election. The Conservative Party are on course to be the largest party in the House of Commons, after disappointing nights for Labour - especially in Scotland - and the Liberal Democrats, for which a number senior figures have lost thier seats. Catch up with what the HSJ team said as the results came in overnight here.