4.38pm: Ealing Council is challenging a decision to reject its request for a judicial review of plans to downgrade four local hospitals.
It is now seeking an oral hearing at the High Court in a bid to secure a full judicial review.
The council applied for a review in March after the NHS approved plans to shut four A&Es and downgrade other services at Ealing, Central Middlesex, Hammersmith and Charing Cross hospitals.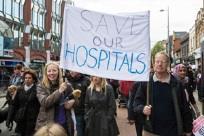 Council leader Julian Bell said: "If you plot emergency hospital services on a map of north west London, it is very apparent that there is a gaping hole of provision over Ealing. Unsurprisingly, we do not believe these monstrous plans are in our best interest and we want our day in court."
An independent panel is currently reviewing the plans and will report to health secretary Jeremy Hunt in September, when he will make the final decision on whether to go ahead with them.
4.27pm: Good inquiries should be short and sharp, says HSJ editor Alastair McLellan in his latest leading article.
He discusses the relative merits of this year's major reviews – Francis. Keogh and Berwick – before moving on to look at latest developments in the independent inquiry into failings at University Hospitals of Morecambe Bay.
The Morecambe Bay inquiry's chair, Dr Bill Kirkup, gave his first interview with HSJ this week.
3.21pm: Dr Peter Miller, currently executive medical director of Nottinghamshire Healthcare Trust, has been appointed as chief executive of Leicestershire Partnership Trust.

A start date for Dr Miller, who is a leading executive and child psychiatrist, has yet to be confirmed. Current acting chief exec, Sue Noyes, will be leaving the Leicester trust to pursue other interests, according to a statement.
2.40pm: The College of Emergency Medicine has unveiled its contribution to Sir Bruce Keogh's call for ideas for his Urgent and Emergency Care Review.
Its recommendations include urgently addressing shortages in the emergency medicine workforce, which it suggests could be funded from releasing spend on locums over time, and co-location of primary care and A&E services to provide effective streaming of patients to the right services.
College president Dr Cliff Mann said: "This review is a great opportunity to tackle problems which have been building in the system for many years. Key to resolving this is getting the workforce right and this outcome must be part of the results of this review."
1.20pm: Monitor has launched an investigation into Royal Berkshire NHS Foundation Trust following repeated breaches of its A&E four hour waiting time target.
The trust has breached the national A&E quarterly target three times in a 21 month period. The foundation regulator said it was concerned persistent failure to meet the A&E target may "signal wider governance problems at the trust".
No decision has been taken about whether regulatory action is required and an announcement about the outcome of the investigation will be made in due course, Monitor said.
1.15pm: Three-quarters of nurses and midwives are not claiming tax relief on their annual registration fees, the profession's regulator has found.
Registrants are eligible for £20 tax relief on their annual Nursing and Midwifery Council registration fee of £100. A survey of 564 registrants by the NMC found only 25% were claiming tax relief and only 40% were aware they were entitled to claim it.
12.22pm: Carruthers joins board of private mental health group. Partnerships in Care, the private sector mental health provider, has appointed Sir Ian Carruthers as a non-executive director.

PiC provides recovery-focused care pathways for patients who suffer from a range of mental health conditions and has 23 hospitals across the UK. PiC Group chief executive Joy Chamberlain said: "Sir Ian's experience will be invaluable in delivering to the quality and safety standards expected."
It is the latest role in the 43 year career of Sir Ian, following the end of his tenure as chief executive of NHS South of England earlier this year. Sir Ian has been keeping himself busy since the demise of his strategic health authority under the government's reforms.
He is currently chancellor of the University of the West of England, chair of the Healthcare UK Governance Board, chair of the Innovation of Health and Wealth Implementation Board, co-chair of the Prime Minister's Challenge on Dementia and a non-executive director of Bioquell plc.
11.49am: The English Community Care Association has welcomed the Care Quality Commission's consultation on inspection, regulation and monitoring in the care sector. In its consultation response, ECCA called for fundamental standards to promote the concept of dignity, respect and a duty of candour.
ECCA chief executive Professor Martin Green said: "Care providers must also have the right to challenge the judgements made by CQC, and the link between commissioning and the quality of services must also be acknowledged and recognised".
11.20am: The feelgood story of the day: A Devon healthcare assistant has notched up 60 years of service to the NHS. June Foster, 80, who works as an HCA with Plymouth Hospitals NHS Trust, started in 1953 at the former Freedom Fields Hospital in the city.
11.07am: Greater Manchester West Mental Health NHS Foundation Trust has been selected as the provider of drug and alcohol support services in Central Lancashire for the next three years. The new contract is worth £7m per year.
11.05am: Surrey Downs ditches EDICS contract
Surrey Downs Clinical Commissioning Group has opted not to renew a contract with an organisation providing specialist referral advice and treatment at consultant-led community clinics. In a statement on its website, Surrey Downs CCG said its contract with Epsom Downs Integrated Care Services has "run its course".
10.40am Tax rises 'needed to pay for NHS', says public
More than half of patients believe taxes should rise to ensure the NHS can continue to provide healthcare in the long term, suggests a survey conducted on behalf of accountancy firm KPMG .
A poll of 1,000 adult patients from England and Wales found that 54 per cent agree that taxes have to increase to ensure long-term healthcare needs are met.
10.32am: A policy and technical director has been appointed by the Healthcare Financial Management Association.
Paul Briddock, who will take up the post in February, is currently director of finance and contracting, and deputy chief executive at Chesterfield Royal Hospital NHS Foundation Trust where he has worked since March 2003.
HFMA president Tony Whitfield said: "We are confident that Paul's arrival will help us increase the HFMA's influence through the development of policy and technical work."
10.26am: A new portal for frontline staff to contribute to the design of the next round of NHS Innovation Challenge Prizes has been launched.
The prize is designed to encourage, recognize and reward innovative healthcare practices and ideas. The portal allows anyone interested in the innovation agenda to submit ideas about what the next round of prizes should look like.
Miles Ayling, director of innovation at NHS England, said: "We are opening up the challenge-setting process to the largest possible audience by using a web-based crowdsourcing approach."
10.21am: Analysis: Pointing the way to change in primary care
As government and NHS leaders step up pressure for radical change in general practice, existing extended services – such as Leeds' York Street practice for homeless people and asylum seekers – may point the way to new approaches and models for primary care.
A new drive is about to begin to bring about the personalised, proactive, holistic and coordinated care, which offers both flexible access and is embedded in communities, that has been long sought in primary care.
Dave West reports; follow him on Twitter @Davewwest
10.15am: HSJ's top story of the day so far: Exclusive: Morecambe Bay inquiry chair prepared to target regulators
The chair of the independent inquiry into failings at University Hospitals of Morecambe Bay, Bill Kirkup, has told HSJ he wants the freedom to investigate all bodies involved – including, potentially, regulators.
Shaun Lintern has the story; follow him on Twitter @ShaunLintern
10.10am: The Daily Telegraph leads its front page with an interview with the parliamentary and health service ombudsman Dame Julie Mellor, in which she describes a 'toxic cocktail' in NHS care.
Dame Julie says patients are often too frightened to complain in case they received even worse treatment, while those who did met "a culture of defensiveness" from staff.
She calls for access to a free patients advice service 24 hours a day and for each patient to be given the name of a senior person, such as the ward sister, with whom they can raise any concerns. The proposals have been submitted to the post Francis report review of complaints being conducted by Ann Clwyd MP and South Tees Hospitals Foundation Trust chief executive Tricia Hart. It is due to report next month.
The paper also carries a short article about Colchester Hospital University Foundation Trust. It claims managers were forced to retract a memo instructing staff not to admit mothers to a ward at Colchester General Hospital as well as maternity units in Clacton and Harwich for post-natal care unless there were clinical problems.
The maternity units are both under the threat of closure due to underuse. The paper reports the trusts said they had made a "careless and embarrassing mistake".
9.51am: Vigilance is needed over controlled drugs, warns the Care Quality Commission.
The CQC's sixth annual report on the management of controlled drugs covers narcotics, amphetamines, anabolic steroids, tranquillisers, growth hormones and sleeping tablets.
The regulator's report says although arrangements put in place in 2006 for monitoring controlled drugs have worked well, vigilance is needed to ensure that the good practice is maintained in the new NHS structure.
Recommendations include ensuring health professionals know how to contact local controlled drugs accountable officers, and that effective systems developed locally to record and share intelligence related to concerns about the management of controlled drugs be preserved in the new structure.
Meanwhile, the BBC has taken a different take on the report, highlighting a 50% rise in England in the use of drugs for attention deficit hyperactivity disorder in six years. NHS prescriptions for methylphenidate drugs, including Ritalin, rose from 420,000 in 2007 to 657,000 last year, according to the CQC report.
9.45am: More needs to be done in prisons to look after a growing population of older male prisoners, according to research by Manchester University.

Findings, just published by the National Institute for Health Research Journals Library, show 44% of prisons do not have a policy on the care and management of older prisoners and there was a lack of integration between health and social care services. Planning for an older prisoner's release was also frequently non-existent.
8.45am: "Insight" from patients is still rooted in the gathering of data rather than conversations write Mark Doughty and David Gilbert on today's HSJ Leadership channel.
Robert Francis advocated the introduction of more feedback mechanisms, and urges professionals and institutions to listen better and act accordingly. The pair argue the problem with this approach is that the fundamental engagement model remains paternalistic and is unlikely to deliver the changes required.