The chief executive of NHS Employers has warned the British Medical Association 'there is no alternative' to negotiation over a new contract for junior doctors, plus the rest of today's news and comment

5.30pm The Care Quality Commission has placed has placed a Leicestershire out-of-hours service into special measures.
The service, Leicester City, Leicestershire and Rutland Out-of-Hours, was rated 'inadequate' by the regulator following an inspection in March.
The service was also rated 'inadequate' in four specific areas: safety, effectiveness and responsiveness and being well-led. It was rated 'required improvement' for providing caring services.
Inspectors found "found significant areas of concern" with the service.
Under the CQC's special measures regime for general practice, the service will immediately be put into special measure and it will be respected in six months' time. If improvements are not made within that time then it will face closure
The service employs 254 GPs, nurses, health care assistants and support staff on a sessional basis. It is provided by Central Nottinghamshire Clinical Services Ltd.

The CQC's deputy chief inspector of general practice in the central region Janet Williamson said: "It is important that the people who use Leicester City, Leicestershire and Rutland Out-of-Hours service rely on getting the high quality care which everyone is entitled to receive.

"GP out-of-hours services face particular challenges in providing safe, compassionate care. Patients are often unfamiliar to staff, and staff do not always have access to their medical records.
"Often these services have a large workforce where staff may not know each other well. Cases can be complex and urgent and must be handled effectively in order to ensure the best patient care is delivered.

"Although the patients we met told us they were treated with dignity and respect, we also found that care and treatment was not always delivered in line with best practice.

"We know that Leicester City, Leicestershire and Rutland Out-of-Hours has acknowledged the areas where action must be taken.
"We have found significant areas of concern, which is why we are placing the service into special measures - so opening the way to support from NHS England among others.

"We will continue to monitor this service and we will inspect again in six months to check whether improvements have been made.
"I am hopeful that the service will do what is required for the sake of its patients, but if we find that the service remains inadequate, we will consider taking further action."
You can read the full inspection report here.
5.15pm Mr Hunt has also paid tribute to his colleagues in the previous government's health team are no longer be in their positions.
He was particularly complimentary towards Liberal Democrat leadership contender and former care minister Norman Lamb, who he described as his "favourite Lib Dem", a "gentleman" and a "real pleasure to work". He said the new government would be "[determined] to build on his legacy on mental health".
Sad to say bye to Earl Howe but wish him all the best @ MoD: perhaps the nicest man in politics as well as a brilliant&hard-working Minister

— Jeremy Hunt (@Jeremy_Hunt) May 14, 2015
Thanks also 2 @drdanpoulter for his hard work & talent as a Minister: we really benefitted from his clinical expertise &frontline experience

— Jeremy Hunt (@Jeremy_Hunt) May 14, 2015
Finally, thanks to my fav Lib Dem @normanlamb. A gentleman &real pleasure to work with. Determined to build on his legacy on mental health.

— Jeremy Hunt (@Jeremy_Hunt) May 14, 2015
5.12pm Health secretary Jeremy Hunt has also tweeted about David Prior's new position in the Department of Health:
Fantastic team completed by David Prior in the Lords - a real patients' champion who has led transformation of healthcare inspection regime

— Jeremy Hunt (@Jeremy_Hunt) May 14, 2015
4.48pm The English NHS treated record numbers of long waiting patients in March, taking full advantage of the last month of the 'managed breach' and achieving the main 18 weeks target at the end of the financial year, writes waiting times expert Rob Findlay.
4.00pm HSJ senior correspondent David Williams observes:
Interesting that David Prior has been appointed minister in the context of the Tories glaring lack of a majority in the Lords.

— David Williams (@dwilliamsHSJ) May 14, 2015
3.56pm HSJ editor Alasitair McLellan comments on David Prior joining the government as a health minister:
Good move 4 David Prior 2 become a health minister. Much better fit than role as a CQC chair where he sometimes let his political slip show

— Alastair McLellan (@HSJEditor) May 14, 2015
3.35pm You can now read HSJ's full story on Care Quality Commission chair David Prior stepping down from his position to become a health minister in the new government.
3.07pm David Prior will be made a life peer in order to serve in government.
The government website lists Mr Prior as one of six individuals for whom the "Queen has been pleased to signify Her intention of conferring a peerage of the United Kingdom for Life".
The others include former MP Francis Maude, who was made a trade minister in government reshuffle, and consumer champion Ros Altmann who was appointed pensions minister.
2.56pm HSJ can confirm that David Prior is stepping down from his position as Care Quality Commission chair to become a minister.
CQC board member Michael Mire, who was formerly a partner of McKinsey & Company, will chair the next board meeting, but has not been appointed to the role.
2.49pm HSJ bureau chief Crispin Dowler notes that David Prior previously endorsed the idea of drafting in successful operators of foreign hospital chains to turn around failing NHS organisations.
New health minister David Prior previously backed idea of foreign hospital chains taking over failing NHS hospitals: http://t.co/RQsVXtogpV

— Crispin Dowler (@CrispinDowler) May 14, 2015
2.47pm HSJ correspondent Shaun Lintern tweets:
Some at CQC will be relieved given the headlines Mr Prior has caused during his chairmanship. So who next for CQC chair?

— Shaun Lintern (@ShaunLintern) May 14, 2015
2.39pm Care Quality Commission chair David Prior has been appointed minister in the Department of Health, HSJ can confirm.
It is expected that he will be made a peer and stand down from his CQC role.
More to follow
2.30pm The Department of Health website lists David Prior as parliamentary under secretary of state.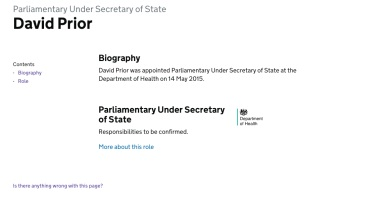 2.14pm Trusts have admitted a 'record breaking' number of patients waiting over 18 weeks for treatment, according to the latest data.
NHS England has published the consultant led waiting list figures for March. They show a 28 per cent increase in the number of long waiting patients treated compared to the same month last year.
1.31pm The NHS Trust Development Authority has challenged one of the largest teaching hospitals in the country to move 'further and faster' with reconfiguration plans designed to cut costs and improve care.
University Hospitals of Leicester Trust, which ended 2014-15 with a £40.6m deficit, is in the process of consolidating its estate from three major acute sites to two, alongside other service changes.
An annual report presented to members of the trust last June revealed that the provider forecasts a £400m funding gap by 2019.
Trust chief executive John Adler told HSJ: "We have been asked by the TDA to see whether we can recover financially ahead of our current strategy and we are looking at the options."
1.04pm The chief executive of NHS Employers has warned the British Medical Association "there is no alternative" to negotiation over a new contract for junior doctors.
Speaking to HSJ ahead of the BMA's annual junior doctor conference this weekend, Danny Mortimer has urged the association to return to talks.
12.39pm The number of frontline staff leaving ambulance services across England has almost doubled in the last five years, analysis by HSJ has found.
HSJ sent freedom of information requests to all 10 ambulance trusts in the country asking how many paramedics and technicians had left the organisation over the past five years.
The responses showed that staff were leaving in increasing numbers. At the eight trusts which provided year by year data, the number of frontline staff leaving jumped from 421 in 2010-11 to 834 in 2014-15.
11.50am Can the vast NHS estate be transformed to deliver vital health reforms and funding?
It will be critical to ensure new investment projects are aligned with longer term local strategy and the wider regional need, argues Rob Harrison, a partner at the public services law firm Bevan Brittan.
11.34am The Daily Mail reports that an NHS trust is offering free lessons on self-hypnosis to all mothers-to-be, as experts say it reduces anxiety about child birth.
After a three year study into the therapy's effectiveness, East Lancashire Hospitals Trust has become the first to offer the service free of charge to all pregnant women at Burnley Birthing Centre, The treatment costs the NHS £4.83 per patient.
11.12pm Executive Summary is our new daily email giving explaining the day's biggest developments, and why they matter to readers.
The early morning email means readers can arrive at work fully briefed on the previous day's developments, risks and moments of inspiration.
10.57am Also in The Times, drug companies should be handed billions in government cash to develop new antibiotics, according to the man leading the official taskforce charged with fighting antimicrobial resistance.
The "global taxpayer" should stump up about £2bn for each new drug, as this was "peanuts" compared with the devastating threat to modern medicine if antibiotics stopped working, said Jim O'Neill, who has been appointed by the prime minister to find ways of combating treatment resistant infections.
10.40am The Prince of Wales secretly and successfully lobbied Tony Blair to change health policy to loosen controls on alternative medicine, The Times reports.
The extent of the prince's influence over the government was disclosed after 27 letters between him and ministers were released under the Freedom of Information Act on the orders of the Supreme Court.
According to The Times, the prince's most effective policy intervention was the delaying by several years of the introduction into Britain of European regulations on complementary medicine designed to protect the sick and vulnerable from dangerous "remedies".
10.29am Shadow health secretary Andy Burnham has announced he will stand for the Labour Party leadership.
Mr Burnham announced his candidacy in a video shared with The Guardian, The Mirror and The Daily Mail.
He is the second member of Labour's shadow health team to bid to become Labour leader, after shadow care minister Liz Kendall confirmed she would stand while being interviewed on Sunday Politics.
Another shadow health minister, Jamie Reed, said he was considering running for the leadership.
Shadow home secretary Yvette Cooper and shadow business secretary Chuka Umanna have also confirmed their leadership bids.
10.06am In case you missed it yesterday, Lord Howe has rejoined the Ministry of Defence as minister of state and Lords spokesman on defence. He had been parliamentary under secretary of state for Quality at the DH since May 2010. Previously he was parliamentary under secretary of state at the MoD, from 1995 to 1997.
On rejoining the MoD, Lord Howe said: "Having worked at the Ministry of Defence before, it is a great privilege to return as minister of state and House of Lord's spokesman on defence. I look forward to working with my military and civilian colleagues once again in the months ahead, ensuring that our both our serving personnel and veterans are fully recognised for the enormous contribution they have made to the country.
"I recognise the hard work of my predecessor Lord Astor, and I am committed to carrying on his impressive record in delivering the government's defence agenda in the House of Lords."
HSJ senior correspondent David Williams tweets:
Earl Howe basically charmed the H+SC Bill through the Lords. Cameron and Lansley owed him big. End of an era https://t.co/At6ZAMbbAT

— David Williams (@dwilliamsHSJ) May 13, 2015
The Health Foundation's policy director Richard Taunt tweets:
I'm genuinely sad about Earl Howe leaving @DHgovuk. Lovely irony in the most honourable member of our parliament being a hereditary peer.

— Richard Taunt (@RichardTaunt) May 13, 2015
10.00am Good morning and welcome to HSJ Live.
We start with the day by with the announcement of the Patient Safety Awards shortlist.
Congratulations to all the organisations shortlisted for the HSJ awards that recognise and reward outstanding practice within the NHS and independent healthcare organisations.
The judges were overwhelmed by the quantity and quality of the entries received for these awards. Those who made the shortlist have proven they are at the very top of their profession.
The Patient Safety Awards recognise and reward outstanding practice within the NHS and independent healthcare organisations.
Now in their seventh year, the awards have joined forces with the Patient Safety Congress.
The awards will be announced at the Patient Safety Congress in Birmingham on 6-7 July.
Click here to see the full shortlist.