3.53pm:
Department of Health says changes to Lewisham hospital in "best long-term interests of patients", hence appeal @DHgovuk

— Jane Kirby (@PAHealthCorr) August 22, 2013
3.48pm: More on the DH's decision to appeal Lewisham hospital High Court ruling
Labour says Hunt's decision to appeal "will waste more taxpayers' money defending the indefensible" @UKLabour

— Jane Kirby (@PAHealthCorr) August 22, 2013
2.30pm Health sector regulator Monitor has announced that it is taking "further action" against Queen Elizabeth Hospital King's Lynn, after the foundation trust failed to meet the conditions of its licence to operate.
The regulator said in a statement this afternoon that it was "concerned that patients have to wait too long to be seen in A&E after the trust failed to meet the national target for three consecutive quarters".
The statement continued: "These concerns were compounded by the recent Care Quality Commission (CQC) report which said some of the national standards of quality and safety were not being met at the hospital.
"The trust has also breached undertakings given to Monitor, as the recovery plan it proposed failed to demonstrate how the trust could return to financial sustainability.
"The trust has now assured Monitor it will fix the failings identified by the CQC, implement an A&E recovery plan, and bring in external support to find a long term solution to the trust's problems."
Monitor regional director Mark Turner said: "Since we first stepped in at this trust, further issues have arisen and the trust's financial position has deteriorated."
He added that Monitor would use its regulatory powers to ensure that the trust "takes steps to achieve the A&E national waiting time target; addresses its financial performance, and undertakes an independent review of how the Trust ensures it delivers high quality care".
2.10pm The Department of Health is inviting bids for a new round of funding available to voluntary and community organisations working to improve people's health and well-being, health minister Norman Lamb announced today.
Awards from the Innovation, Excellence and Strategic Development Fund are used to support voluntary or community groups testing and developing new ways of working in health and social care.
The Department said in a statement that this year's awards will go to groups "that also demonstrate a commitment to some of the current key priorities in the health and care system". These included:
Personalisation and Choice of Care and Support
Delivering Better Health and Care Outcomes
Improving Public Health
Improving Long-Term Care and Support
Delivering Safe and Compassionate Care
In the last funding round (2013-14), 49 new projects were recommended for funding under the scheme at a total cost of £5.5 million for the year.
Organisations can find out more details of the fund at https://www.gov.uk/government/publications/voluntary-sector-funding-available-for-health-and-care-projects, or contact the Voluntary Sector Grants Hub on 0113 254 5450, or email voluntarysectorgrantshub@dh.gsi.gov.uk.
1.15pm: HSJ Learning Disability Week Twitter chat:
#hsjchat #LDWeek13 @dmarsden49 Maybe @NHSE_Dean and the #NHS could have a look at what pwld have to offer? What clinical roles may be open?

— Care HR (@carehroxford) August 22, 2013
1.10pm: More from our Twitter chat marking Learning Disability Week
@Michell68120781 #hsjchat one of the prerequisites for a intern ship is that there ought to be a job in that part of the organisation

— Daniel Marsden (@dmarsden49) August 22, 2013
12.55pm:
@carehroxford One tool that we developed with Ward managers is 4C's framework for Reasonable Adjustments http://t.co/qRGQ5lemCG #hsjchat

— Daniel Marsden (@dmarsden49) August 22, 2013
12.50pm:
My view is no - too often see ppl with ld as passive recipients of care rather than active citizens who bring value to workforce #hsjchat

— Lorraine Cameron (@LorraineC99) August 22, 2013
12.48pm: Our Twitter chat marking Learning Disability Week has started. Do enough people with Learning Disabilities work in the NHS? You can take part in the discussion using hashtag #HSJchat.
12.30pm: The Press Association's health correspondent reports that the government is going to appeal the High Court ruling on Lewisham Hospital.
Government to appeal High Court ruling over downgrade at Lewisham hospital @DHgovuk

— Jane Kirby (@PAHealthCorr) August 22, 2013
12.01pm: Medway Council's health and adult scrutiny committee is referring plans to remove all acute inpatient mental health beds from Medway Maritime Hospital to the health secretary. It has told HSJ that the plans would "not be in the best interests of patients" and would mean there was no local provision of mental health beds.
However the trust's medical director, Karen White has said: "the decision will have a direct impact on patient care. Any delay in moving patients out of A Block means clinical care could be compromised".
11.25am: HSJ has learned that up to 20 NHS trusts are in talks with Indian healthcare providers about potential business agreements. Former health secretary Patricia Hewitt said trusts were either trying to access the fast growing sub-continental market − estimated to be worth £110bn by 2017 − or to harness Indian expertise. HSJ's James Illman reports.
11.02am: NHS England is predicting it will fall short of its efficiency savings target by 13 per cent in this financial year. This is a bigger gap than that forecasted by clinical commissioning groups and comes despite NHS England setting a less ambitious target compared with CCGs.
An internal report obtained by HSJ reveals NHS England is aiming to make savings of 1.4 per cent through the quality, innovation, productivity and prevention programme this year. CCGs are planning for a 2.6 per cent saving. HSJ's David Williams reports.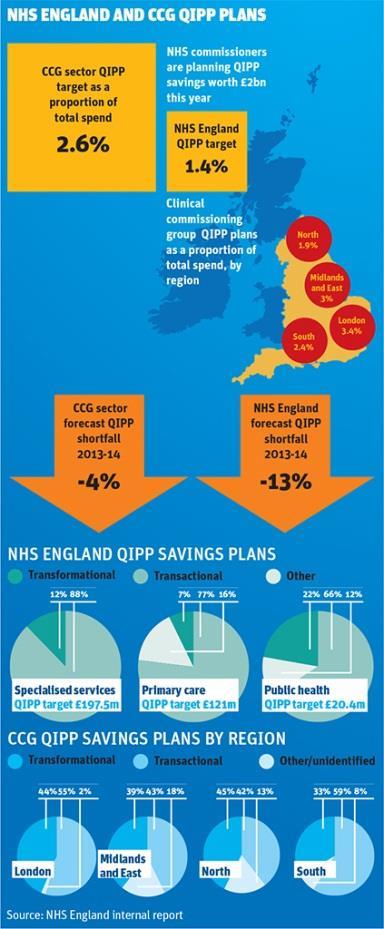 10.46am: GPs in Greater Manchester are to trial a seven day service to reduce pressure on A&E. The new six-month trial set to begin in October will see patients in the North West have greater access to GPs, with surgeries opened into the evening and on weekends.
Practices in Radcliffe, Heywood and Middleton, Greater Manchester, will use their share of a £2m grant to make improvements to their patient services and deliver a seven-day GP access.
10.32am: The row over the value or otherwise of NHS Health Checks rumbles on today on the Times' letters page with contributions from a number of high profile figures. Dr Bill Kirkup, retired associate chief medical officer at the Department of Health, says it would be "perverse" to abandon the checks now and points out some of the trials examined by the Cochrane review which raised questions about the test "pre-date the preventative measures now available".
Baroness Young, chair of Diabetes UK and former chair of the CQC, also defends the checks pointing out early intervention to help diabetics manage their condition can save costs in the long run. She writes: "As a country, the idea that we should just sit on our hands and watch this public health disaster unfold is just unthinkable."
10.30am: This week is Learning Disability Week 2013 and HSJ is marking it with a Twitter chat. Join us from 12.30 to 1.30pm using hashtag #HSJchat.
10.12am: Urgent care services for physical and mental health needs have for too long been fragmented and disjointed says Sean Duggan, chief executive at the Centre for Mental Health. In an opinion piece for HSJ this morning he argues some of the £500m plegded to help reduce delays in A&E should be put towards developing laison psychiatry services in hospital.
"Some of the £500m investment could help to speed up the development of these services where they do not currently exist or where there is limited coverage," he wites.
9.56am: The Daily Mail reports that big brand health suplements companies have been accused by consumer group Which? of exagerating and misleading their benefits to heart health, joints and digestion. Names such as Seven Seas and Vitabiotics tap into families' health concerns but many of their products fail to deliver the promises on the packaging, acording to the Which? study.
8.45am: Good morning, since the publication of the Francis and Keogh reviews, many column inches have been devoted to the different ways hospital mortality is reported. Despite the obvious changes that are occurring in morbidity and mortality meetings, they are still not taken seriously writes Norman Briffa.
Most deaths are inevitable but a significant proportion is avoidable and it is for the future avoidance of these that morbidity and mortality meetings exist. On HSJ's commissioning channel today he takes a look at pilot programmes happening across England that embed this as part of culture change.