What Patricia Hewitt really said about India and the rest of the day's news

3.08pm A privacy campaigner has accused NHS England board member Tim Kelsey of being "incredibly offensive" after he apparently suggested on Twitter that people who want to opt out of plans to share patient data are making "no contribution to society".
In response to a sceptical tweet about the care.data proposals, The NHS England national director for patients and information tweeted: "you can object and your data will not be extracted and you can make no contribution to society."
He then tweeted: "offence not intended - I meant contribution to health improvement thru sharing non PID [patient identifiable data]."
Helen Wilkinson, co-founder of privacy group Med Confidential, responded via Twitter: "incredibly offensive I am a former elected representative 2. Both James and I contrib alot"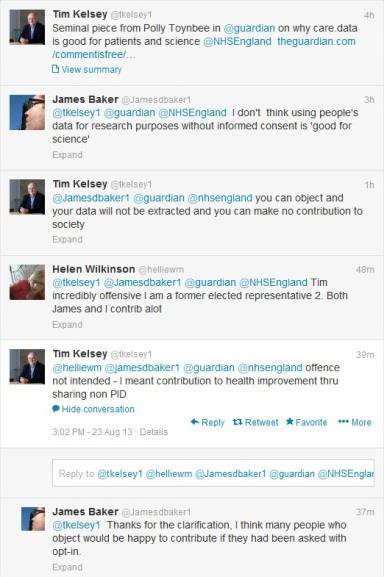 2.01pm
Read Shaun Lintern's analysis of the Mid Staffordshire Foundation Trust here: Mid Staffs administrators' plans would see millions in investment
1.58pm The decision on whether the first merger between two foundation trusts can go ahead has been delayed until October to give the Competition Commission more time to consider the potential patient benefits, reports HSJ's south west reporter Sarah Calkin.
The commission was originally due to make its final ruling on the merger of Royal Bournemouth and Christchurch Hospitals and Poole Hospital by next Tuesday.
1.51pm Mental healthcare providers have warned the Care Quality Commission that they do not want their services to be "shoehorned" into a new regulatory regime that has been designed for acute hospitals, reports HSJ's Shaun Lintern.
HSJ has learned the Mental Health Network, which represents both NHS and independent sector providers, has raised concerns about some changes to the CQC's approach to regulation following the Mid Staffordshire Foundation Trust public inquiry.
1.46pm Clinical commissioning groups will be allowed to delay formal procurement of their support services until 2016, under new guidance published this week by NHS England, reports HSJ's commissioning reporter David Williams.
The move could delay formal procurement of commissioning support units by 18 months. Previously NHS England had said all CCGs would have to undertake formal procurement no later than September 2014.
The policy shift is set out in a letter circulated to CCG leaders yesterday by Rosamond Roughton, NHS England's director for commissioning development.
12.47pm 23 August issue of HSJ is ready to read on the app
12.43pm The Department of Health has published a clarification via Twitter regarding stories in the media today about NHS patients being sent to India.
It said: "To any worried @DailyMirror readers, there is no intention to send NHS patients to India for treatment."
11.21am The government is to appeal against a High Court ruling over a decision to cut services at Lewisham Hospital.
Health secretary Jeremy Hunt suffered defeat last month over his "unlawful" move to downgrade emergency and maternity services at the south-east London hospital
11.14am The number of dentists earning more than £200,000 a year dropped slightly to around 700 in 2011-12, new according to new Health and Social Care Information Centre figures.
Of the higher earners, 200 earned more than £300,000 a year, while 150 earned £250,000 to £300,000

10.53am The HSJ Awards shortlist has been unveiled! See full details of here
HSJ editor Alastair McLellan said: "I'm delighted to announce this year's HSJ Awards shortlist.
"We received an impressive list of over 1,100 entries this year – more than any other year. This shows that the NHS, despite the changing landscape and challenges this brings, continues to work tirelessly to deliver healthcare excellence and innovation."

10.43am It's high silly season, and national attention to a news story in HSJ this week may be in danger of overheating.
In an exclusive HSJ interview this week, former health secretary Patricia Hewitt, now chair of the UK India Business Council, said up to 20 NHS trusts were in discussions with Indian healthcare providers about potential business agreements.
The Daily Mirror discussed this news with Dr Kailash Chand, deputy chairman of the British Medical Association, who warned that it was a "huge scandal". Dr Chand is quoted as saying he is "extremely concerned that the next step will be patients being flown to India for treatment because these trusts think that it could save them money".
This led to the Mirror's splash this morning, NHS MAY SEND PATIENTS TO INDIA: Scandal of hospital trusts' new plan to cut costs.
The Daily Mail then grabbed the baton, and suggested that Ms Hewitt herself claimed NHS patients might be boarding planes to the subcontinent for "cut-price surgery".
For the record, here's what Ms Hewitt actually said:
The talks involve around 10 to 20 trusts. Most are at early stages, but she expected "a half dozen to a dozen" trusts or UK companies to have entered agreements by 2015.
She added: "Our ambition is to get as many [NHS trusts, UK health companies and charities] there as we can.
"I would certainly hope by 2015 we will be able to say… here is what they are doing and selling and here are the benefits that are accruing both to Britain and to India."
10.32am NHS England has officially begun the procurement process to replace the NHS Choices website with a new "integrated customer services platform" from March 2014.
A letter from NHS England national director for patients & information Tim Kelsey to potentially bidders says: "I am writing to you to begin a process of engagement with potential providers of our future integrated customer services platform (ICSP) from April 2014 onwards.
"Using ICSP we intend to empower patients and the public to live longer and healthier lives through the use of cost effective, relevant and personalised digital channels for their health and care needs, and at the same time reduce pressure on traditional, costly face-to-face services."
See details are here
8:19am: Good morning, today on HSJ's innovation and efficiency channel, Thoreya Swage and Harry Longman explain how the right telephone access to GPs can help reduce inappropriate demand for accident and emergency services.