Virgin Care selected as preferred bidder for £69m community services contract in Bath and north east Somerset
Firm beat Sirona Care and Health consortium, which included two trusts
Commissioners say contract will include clause requiring any surplus to be "reinvested into services in Bath and north east Somerset"
COMMERCIAL: Virgin Care has been selected as preferred bidder to provide community services in Bath and north east Somerset covering a current annual expenditure of £69.2m.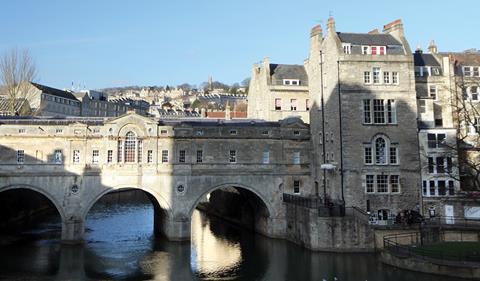 Bath
The seven year contract – with an option to extend for a further three years – is being jointly commissioned by Bath and North East Somerset Clinical Commissioning Group and Bath and North East Somerset Council.
It covers over 200 services currently delivered by more than 60 organisations including: health visiting; speech and language therapy; diabetes nurses; district nurses; the falls prevention team; the independent living service; physiotherapy and reablement services; and palliative care nurses.
Virgin Care was chosen ahead of a consortium led by the social enterprise Sirona Care and Health, which included Avon and Wiltshire Mental Health Partnership Trust, Royal United Hospitals Bath Foundation Trust, Dorothy House Hospice Care, and the GP organisation Bath and North East Somerset Enhanced Medical Services.
The rationale for the contract is to integrate the disparate services. Virgin Care will act as a "prime provider", directly delivering and coordinating services, but with the option to subcontract to other providers where appropriate.
Ian Orpen, Bath and North East Somerset CCG chair, said: "Many people have difficulty finding their way around the health and care system to get the care they need.
"Virgin Care's proposal means that services can be better coordinated and people will be supported to access all the services that can help them improve their health and wellbeing."
Councillor Vic Pritchard, cabinet member for adult social care and health at Bath and North East Somerset Council, said: "People told us they want more care delivered closer to home so services will be organised around GP practices providing access to a wider range of health and care professionals in people's communities.
"They also asked us to join up services and information so that it's easier for different professionals to work together to coordinate care. Virgin Care will enable this to happen by bringing people's health and care records into one secure place."
He added that a clause would be included in the contract that would require "any financial surplus made by the new prime provider to be reinvested into services in Bath and north east Somerset".
The commissioners and Virgin Care will now engage in planning and negotiation. The contract is expected to be formally awarded in November, with services transferring to Virgin Care in April.
Source date
18 August 2016