East Staffordshire CCG in dispute with Virgin Care over "prime provider" contract
CCG's finances at risk due to disagreement with the provider over potential changes to £270m community services contract
Burton Hospitals FT unable to sign subcontract with Virgin Care, with risks for its control total
A Midlands clinical commissioning group is locked in a contract dispute with Virgin Care over a controversial "prime provider" contract awarded last year, HSJ has learned.
East Staffordshire CCG disagrees with "contractual claims" made by the independent provider to make changes to the £270m "prime provider" deal that began in May 2016.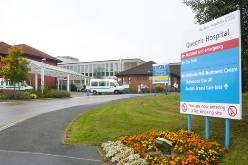 The fixed price, seven year contract covers community services, with Virgin Care coordinating services for frail elderly patients, people with long term conditions and intermediate care. Last year, the CCG said it had used the prime provider contract model as it did not have the capacity to deliver the required integration of services.
However, in governing body papers published on 30 March, the CCG said there have been "a number of contractual claims made by Virgin Care for variations to the contract… these continue to be managed through the prescribed contract management and dispute resolution processes". It is not clear what the nature of these claims are.
The documents also said the CCG is utilising a number of "contractual actions" in relation to Virgin Care in its prime contractor role, and the outcome of "contractual claims made by Virgin Care" present a "potential risk" to the group's finances.
As part of the prime provider model, Virgin subcontracts services to Burton Hospitals Foundation Trust. However, trust board papers said it has been unable to agree a contract with the Virgin due to the dispute between the company and the CCG.
Minutes from the Burton Hospitals' board meeting on 12 January said: "The trust would have been in a position to sign the contract had it been able to reach an agreement with Virgin Care, however, this had not been possible…Virgin Care were discussing their contract issues with the CCG and a meeting had been scheduled between NHS England, NHS Improvement, Virgin Care and the CCG…Virgin Care was clear that its issues with the CCG would need to be resolved prior to entering into a contract agreement with the trust."
The trust's finance report from 9 March said "there was still no definite update on the Virgin contract" and this presented a risk to it achieving its control total.
A spokesman for the CCG said: "East Staffordshire CCG has nothing to add to the information about the contractual dispute, which can be found in its board papers. This is an ongoing dispute and it would not be appropriate for us to comment further at this stage."
A trust spokeswoman said: "As a trust, we remain committed to delivering the highest quality care and services to our local population, notwithstanding a complex contractual process which is currently being worked through at the highest levels. We are not able to comment on the contractual discussions between our lead commissioner and Virgin Care."
A spokesman for Virgin Care said: "We remain focussed on continuing to improve health outcomes for the local community in East Staffordshire, building on our partnership working which has already seen a 5 per cent reduction in A&E attendances alongside an increase in patient satisfaction".
Source
CCG and trust board papers