Clare Panniker finalises top team to lead Basildon, Southend and Mid Essex "group model"
Team includes members from each trust and Basildon has biggest representation
Team must take crucial decisions over major acute reconfiguration and A&E downgrades
Three Essex trusts setting up a new "group model" to run three hospitals have finalised their new "joint executive" team.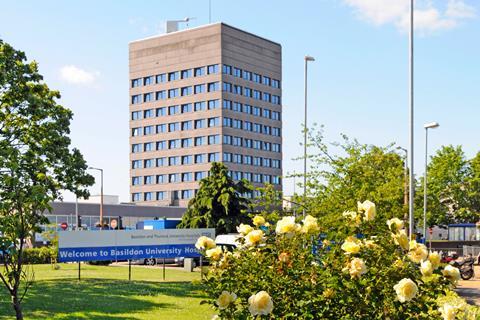 Basildon and Thurrock University Hospitals NHS Foundation Trust
Clare Panniker, who will also be chief executive of all three of the trusts, will run the team, but the other members of the executive have now been finalised.
The move follows south east Essex's sustainability and transformation plan setting out a challenging financial position in which under a "do nothing" scenario, the area faces a £407m deficit by 2020-21.
It sets out plans for a major reconfiguration of acute services for the new group to oversee, including accident and emergency downgrades.
The new team is made up of executives from all three trusts – Basildon and Thurrock University Hospitals Foundation Trust, Southend University Hospital FT and Mid Essex Hospital Services Trust. Basildon has the largest representation.
The team includes:
Chief medical officer – Celia Skinner (Basildon).
Chief nurse – Diane Sarkar (Basildon).
Chief transformation Officer – Tom Abell (Basildon).
Chief human resources Director – Mary Foulkes (Southend).
Chief finance officer – James O'Sullivan (Southend).
Chief information officer – Martin Callingham (Mid Essex).
Chief estates and facilities director – Carin Charlton (Mid Essex).
The executive will also include the three new managing directors for each trust, who will lead "site senior leadership teams" to manage the day to day needs of each trust. They are:
Managing director Mid Essex – Lisa Hunt.
Managing director Southend – Yvonne Blucher.
Managing director Basildon and Thurrock – Clare Culpin (from March, Tom Abell will be interim until then).
Ms Culpin will join Basildon from Kettering General Hospital where she is currently deputy chief executive. The appointments were agreed by the trusts, NHS Improvement and NHS England.
The news follows Ms Panniker being appointed Southend's chief executive earlier this month.
The team will be charged with trying to balance one of the NHS's most financially challenged health economies and overseeing a controversial acute reconfiguration systems leaders calculate could drive £28m of savings.
The STP sets out options which would see two of the three type one emergency departments downgraded, and one upgraded to a "specialist emergency hospital".
The downgraded hospitals would retain 24/7 opening hours and still provide some specialist surgery, because specialist provision is spread across the three hospitals. Cancer and radiotherapy specialist work would remain at Southend, cardiothoracic at Basildon's specialist centre, and plastic surgery and burns at Mid Essex's Broomfield Hospital.
However, the STP said they would no longer accept "all" ambulances 24 hours a day – a key tenet of a type one A&E. The other proposed models, an "emergency hospital with elective" or "elective centre with A&E", would both have "selective A&Es" and times when ambulances would be accepted would be restricted, it says.
System leaders insisted the new arrangements would improve emergency service provision.
Joint medical director for the mid and south Essex success regime, Ronan Fenton, said in a statement to HSJ: "We aspire to provide the best emergency care in the country by allowing our three A&E services to work cooperatively. All three hospitals will have specialist assessment units at the front door to deal with children, older and frail people and people who might need surgery.
"For the most serious, life threatening cases, a specialist emergency hospital has the potential to save more lives. The arrangement also frees up capacity for two hospitals to concentrate on planned and specialist care, without being overwhelmed by surges in emergencies. This offers huge advantages to be able to improve clinical care quality, specialist capability and make cancelled operations a thing of the past."
Further information published for patients in November said there were two "possible combinations for our redesigned hospitals". Either: one trust will become a "specialist emergency hospital" and two "emergency with elective care" hospitals; or one will become a "specialist emergency hospital", one an "emergency with elective care" hospital and one an "elective with A&E".
The document said: "All three could provide a "specialist emergency hospital" and all three hospitals could provide an "emergency hospital with elective". Broomfield Hospital would need to maintain a full range of emergency care to support its plastics and burns centre, as would Basildon Hospital to support its cardiothoracic centre.
"Given Southend's existing facilities and specialist expertise in cancer surgery, the hospital could provide an excellent 'elective centre with A&E' together with its existing centre for cancer and radiotherapy."
The STP says £28m can be saved by acute reorganisation, through a single management, a flexible workforce across the three trusts and better use of telemedicine and technology.
Source
Announcement and information obtained by HSJ