Bolton FT and Pennine Acute Trust are both preparing to procure a new electronic patient record systems
Building integrated patient records between trusts seen as key aspect of the "hospital chain" across north Greater Manchester
Digital landscape in city of Manchester could be less uniform
TECHNOLOGY: Two more acute trusts in Greater Manchester are considering whether to implement the electronic patient record system used by Salford Royal Foundation Trust, HSJ has learned.
Bolton FT and Pennine Acute Trust are both preparing to procure a new EPR system, and a likely factor in their choice will be the potential integration with systems used by Salford and other partner trusts.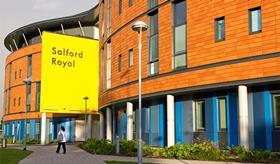 Salford Royal, which is the most advanced trust for "digital maturity" according to an index published by NHS England, uses the Allscripts EPR, which is also being implemented at Wrightington, Wigan and Leigh FT this summer.
Building integrated patient records between trusts is seen as a key aspect of the "hospital chain" being developed across the north of Greater Manchester. As previously reported, all four of these trusts are involved in discussions about formally constituting the group.
Andy Ennis, chief operating officer at Bolton FT, told HSJ: "The historical lack of investment at Bolton means we're way behind on IT, but we've now had a bid for capital funding approved for a new system.
"We are looking at Allscripts and have had those conversations. We've got a business case going in July and it will obviously be an open process, although one of the things we would consider is how the new system could integrate with those used at our partner trusts."
Pennine Acute is currently receiving informatics leadership from Salford Royal, as well as business case support for an EPR procurement. A trust spokesman said Allscripts was "one of the options available".
A key feature of the system is that clinicians are not only able to view patients' information easily, but can enter real time updates. It also has a high degree of interoperability, meaning it can function well with other systems. Salford has recently installed an extension which connects to systems used by GPs, with further phases expected to cover social care and mental health organisations.
The situation in the city of Manchester could be less uniform, despite proposals to merge its three main hospitals sites under a single new city-wide NHS trust.
University of South Manchester FT is in the process of implementing Allscripts, with the system set to go live next year.
However, Central Manchester University Hospitals FT is aiming to implement an EPR called Chameleon, with a combination of internally built applications and purchased systems.
A source familiar with the issue told HSJ the trust's information management and technology system is being reviewed internally. CMFT did not respond when asked about this.
Stockport FT is preparing to implement an EPR called TrakCare, while Tameside FT will look to build on its Lorenzo system.
Source
Information provided to HSJ