Acute trust forced to take action after collapse of middle grade A&E rotas following locum caps
Lancashire Teaching Hospitals has just eight doctors to staff 14 posts across two sites
Chief executive says failure of trusts to act collectively on locum caps meant doctors left to work at higher paying trusts
A teaching hospital has been forced to downgrade one of its two accident and emergency departments after a crisis in locum doctor recruitment. The problem has been blamed on difficulties caused by introduction of a cap on locum rates, HSJ has learned.
Lancashire Teaching Hospitals Foundation Trust is preparing to close Chorley A&E overnight from Monday, but it will run as an urgent care centre between 8am and 8pm.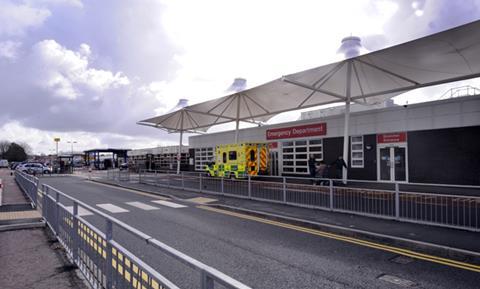 Trust chief executive Karen Partington told HSJ it had only half the middle grade doctors needed to staff its two A&E departments in Preston and Chorley, after locum doctors resigned from the trust to work at other North West hospitals who were paying over the cap for temporary staff.
The problem has been further exacerbated in recent weeks after two doctors went on long-term sick leave.
She said a recruitment drive by the trust had resulted in no applications from middle grade doctors and one unsuitable consultant applicant.
On Tuesday a meeting was held with 200 staff at the trust where the situation was spelled out.
One member of staff told HSJ: "The current consultants have been acting down but can no longer do it without the consultant rota collapsing. Things have now come to a head."
The trust had approached the local Preston barracks to explore the possibility of military doctors being used to maintain staffing but HSJ understands the army are unable to provide middle grade doctors.
Ms Partington said on Thursday: "We have a rota for 14 middle grade doctors to provide care in A&E across both sites. We currently have eight people in those posts.
"When the agency cap was introduced in November we held the line and a number of doctors did say they were going to stay and work, and work under the caps. We held the line because I felt it was the right thing to do.
"When the February cap came in, again we held the line but then we discovered that other [trusts] were not and not declaring it, or recruiting people under the cap with other benefits that were below the radar."
When lower caps came into effect on 1 April the trust decided it could no longer pay the lower rate and agreed to breach the cap and recruit new staff but received no applications to replace those who had resigned.
Ms Partington said: "I think we didn't receive any CVs because we had become known as an organisation that held the line. The issue is not the cap, it's about how it was applied. Trusts didn't act collectively."
For a number of weeks consultants at the trust have been acting down but Ms Partington said this was not a sustainable option and the trust had to take action.
Ms Partington said the region was "under doctored" and that this had now been recognised by local deaneries and Health Education England.
She told HSJ the trust was continuing to try to recruit staff and the closure of Chorley A&E was seen as a temporary measure.
Earlier this year HSJ reported that Greater Preston Clinical Commissioning Group and Chorley and South Ribble CCG were preparing a public consultation over reconfiguration of the trust's services, which was expected to affect its emergency services.
Source
Information provided to HSJ